Record-breaking fall temps in Verde Valley
No rain in Verde Valley for more than 90 days, Flagstaff still waits for first snow
Originally Published: December 15, 2017 6 a.m.
VERDE VALLEY – It's been a warm and dry fall this year.
It's the warmest fall on record for Tuzigoot, with an average temperature of 67.3 degrees.
The National Weather Service defines fall as September through November.
Flagstaff's fall is the fourth warmest on record, with an average of 50.2 degrees. According to the NWS, Prescott had the third warmest fall on record with an average temperature of 58.4, and Winslow had their second warmest fall with an average of 59.5 degrees.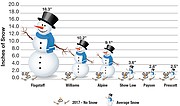 Along with Tuzigoot, Prescott Municipal Airport also reported the warmest fall on record, averaging 60.2 degrees, and McNary's average temperature for their warmest fall was 54.2.
Like most of the state, the Verde Valley is in a moderate drought. It hasn't rained since Sept. 13; this will be 93 days without rain as of Friday. It's the seventh longest streak without rain, said Justin Johndrow, a meteorologist with the NWS in Flagstaff. The longest dry spell was 118 days during the winter of 2005-2006.
So what's going on?
"There has been persistent high pressure along the west coast this fall, steering storm systems well north of Arizona," explained Johndrow.
"The cause of this area of high pressure can't be determined for certain, but there are links to sea surface temperatures in the tropical Pacific Ocean. Warmer than normal sea surface temperatures in the western Pacific and colder temperatures in the eastern Pacific could be affecting weather patterns and causing the West Coast high pressure area."
What can we expect for winter?
The outlook from the National Weather Service's Climate Prediction Center is for enhanced odds of a warmer than normal winter for the Verde Valley, said Johndrow.
He said there is around a 50 percent chance of above normal temperatures with only a 17 percent chance for below normal and a 33 percent chance of near normal.
As far as rain, there is none in the forecast through Dec. 20.
"After that, some of our forecast models are suggesting a pattern change that would make rainfall possible toward the end of next week. This is far from certain though, it's best to check weather.gov/Flagstaff for the latest info," said Johndrow.
Where's the snow?
50 years ago, the Verde Valley woke up to the biggest snow storm in Arizona history. Jerome was buried under 41 inches of snow.
In striking contrast, Flagstaff, along with most of northern Arizona, is still waiting for their first snow. The average amount of seasonal snow through Dec. 12 for the city is 18.3 inches. Williams, Alpine, Show Low, and Payson haven't seen snow either, nor has Prescott, which usually sees an average of 2.5 inches by now. It's unlikely that Flagstaff will see any snow through Dec. 22, said Johndrow.
"After that, some of our model forecasts indicate a pattern change that could bring snow, but this is far from certain," he explained.
As of Dec. 12, the first snow has been this late only 13 years out of 119 years of record, around 11 percent of years, said Johndrow.
"If there is no snow for another 10 days, there will only be 8 years with later first snows, or 7 percent of years. A first snow this late is around a once every 15 years occurrence."
More like this story
SUBMIT FEEDBACK
Click Below to: