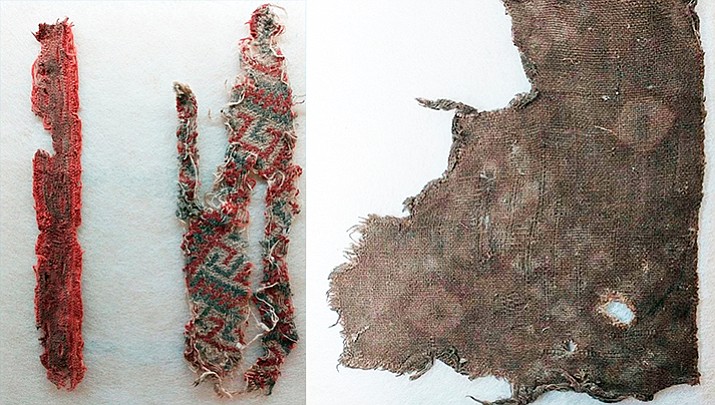 ---
---
The Verde Valley Archaeology Center (VVAC) has announced the opening of a new exhibit of ancient textiles from the Paul Dyck Rock Shelter in Rimrock.

Wet Beaver Creek is a tributary of the Verde River, which drains the Mogollon Rim, located to the north, and flows south into the Salt River. During its course south the Creek encounters soluble limestone deposits which were dissolved to create caves, recesses, and cliff dwellings suitable for human habitation. Paul Dyck purchased a ranch along the Creek in 1938. On the Paul Dyck Ranch is one of these cliff dwellings.
In the late 1950s, Paul Dyck became concerned that the cliff dwelling on his property would be pot hunted due to development in the Rimrock area. During an exhibit of his life-size paintings of Plains Indian Chiefs at the Southwest Museum in Los Angeles, Paul met Dr. Charles Rozaire, who was working at the museum at that time. Paul asked Dr. Rozaire if he would be interested in conducting a professional excavation of the cliff dwelling.
During a visit to the site, Dr. Rozaire agreed.
The Dyck cliff dwelling excavations proved to be so interesting and the deposits so extensive that Dr. Rozaire conducted excavations over the course of seven seasons of investigations in 1962, 1968 (two seasons), 1969, 1970, 1971, and 1972. These excavations recovered more than ten thousand artifacts, including a large collection of perishable materials preserved in the dry midden deposits inside the cliff dwelling.
The excavations at the Dyck Cliff dwelling recovered a full range of woven materials including textiles, sandals, skirts, cords, braids, ropes, matting, bags, and nets. There is abundant evidence indicating that an important activity in the cliff dwelling was the weaving of cotton and non-cotton textiles. Evidence for the weaving of cotton at the Dyck Cliff dwelling includes cotton seeds, unspun cotton, yarn, and a variety of weaving tools including spindle whorls, spindles, wooden battens, and shed rods.
Numerous needles made from agave spines also were recovered, some which had their agave threads woven into cotton threads, suggesting they were used for sewing or making repairs to cotton textiles. In addition, a considerable amount of cotton and yucca cordage was recovered, numbering in the thousands, as were numerous pieces of cotton cloth woven with a variety of designs. Dr. Todd Bostwick, the Center's Director of Archaeology said that "the Dyck textiles represent the most extensive and well preserved collection of Sinagua textiles ever recovered. Some of the 800-year old textile fragments have retained their color so well they look like they were woven yesterday."
The Center has been displaying several beautiful textiles recovered from the Dyck Cliff dwelling, however, textiles are fragile and subject to deterioration by improper levels of temperature, visible light, pests and pollutants. Executive Director Ken Zoll states that "the National museum standard call for such rare or fragile textiles to not be on display for more than six months. The Center holds to this standard by rotating textiles on display." A new set of artifacts has recently been added to the display.
Among the new items is a plain weave with dark brown tie-dye pattern that may represent corn kernels or snake skin, both sacred symbols. Another unusual textile is a cotton plain weave that has been dyed red internally and was then decorated with a stamp or roller leaving a black-on-red negative with a staggered motif. There is also a cotton diamond twill tapestry with blue-gray and red dye on a crème background.
The Center is located at 385 S. Main St., Camp Verde. The museum exhibits are open free to the public Tuesdays through Saturdays from 10 am to 4 pm, however, the Center will be closed on the Saturdays before Christmas and New Year's Day. Additional information on the Center's activities is available at www.vvarchcenter.org, or by calling 928-567-0066.