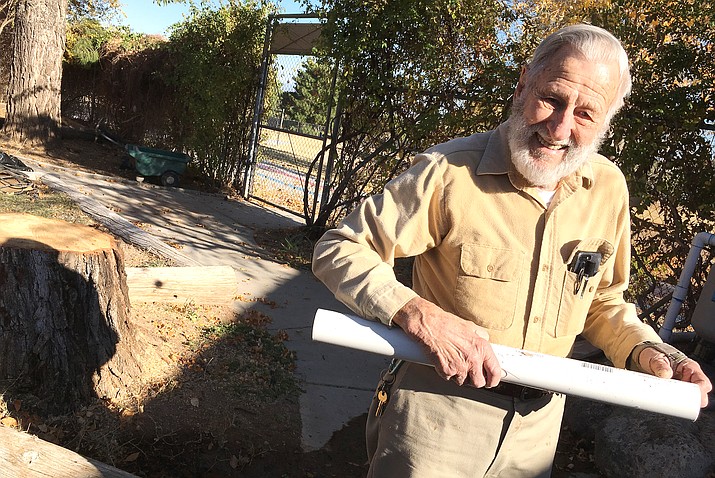 Originally Published: December 21, 2017 1:26 p.m.
COTTONWOOD – Back when he was a young man, Ted Kuntz had his own garden, 10 acres to be exact.
It was a nice garden, he remembers.
Back then, Kuntz grew tomatoes, parsnips, beets, carrots, radishes, lettuce and potatoes.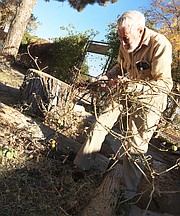 That was back in northeastern Ohio, in a city called Hudson.
In Arizona these days, Kuntz, now 90, still likes to work outdoors.
Even though he cannot see the way he used to.
"Started losing my eyesight in 1994," he says. "That's when I first noticed I was having trouble."
Kuntz explains that his peripheral vision is still pretty good. But he cannot see things that require "extremely close vision."
Good thing a gardener also uses his hands to see.
Bailing them out
It's been about 10 years since Kuntz began tending garden at Dr. Daniel Bright School in Cottonwood.
Back in 2008, his daughter-in-law was one of the school's teachers. She also took care of the roughly 1,700-gallon pond found at the back end of the garden.
"The main pump seized up, and the school had no money to replace it," Kuntz recalls. "She called me up and asked if I could bail them out."
"I've been bailing them out ever since."
About three hours on Mondays and Fridays, Kuntz can be found at the school's garden working on several projects, including keeping the pond's "state-of-the-art" filtration system in tip-top condition.
"Still improving the system," Kuntz says. "Every time I'm out here, I'm trying to make it all better."
Safe from predators
Nancy Erickson, principal at Dr. Daniel Bright, says she appreciates the work Kuntz does as he also cleans filters, monitors the cleanliness of the pond and "works hard to make sure the fish are safe from predators – herons mostly."
Kuntz has also been known to breed the pond's fish at home to make sure they are big enough to survive in the pond. Right now, the pond has about 15 coy, Kuntz says. Some of the fish are not even two inches long; one of them is about three feet long.
Kuntz also feeds and gives water to the bunnies and the birds in the atriums, and he works with one of the teachers to make sure "that the days he is not here that they are taken care of as well," Erickson says.
'I just do what needs to be done'
At about 1 p.m. Mondays and Fridays, Kuntz boards the paratransit bus that takes him to the garden. Arriving no earlier than 1:15 p.m. and rarely as late as 1:30 p.m., Kuntz works in the garden until just before 4 p.m., then he takes the bus back home.
In gardens past, Kuntz was the green thumb. At Dr. Daniel Bright, the school's students are responsible for growing the fresh delectables. As involved as Kuntz gets with the garden's vegetable supply is when he recently removed old tomato vines before he raked the planter for the next growing cycle.
Rarely do Kuntz and the children work in the garden at the same time.
"I just do what I think needs to be done," he says.
A nonagenarian as of Tuesday, Kuntz plans to spend both Christmas Day and New Year's Day in his garden-away-from-home.
More like this story