Camp Verde library dedicates 'Mom's Bench,' tree to honor longtime librarian Denise Alm
By
Bill Helm
|
BillHelm42
Originally Published: December 23, 2017 10:24 a.m.
CAMP VERDE – To Sebra Choe, she was like a second mom.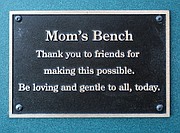 To Bill Cook, she's the only mom.
"No one misses her more than I do," Cook said Thursday about his mother Denise Alm, who passed away on May 3 of cancer.
Not too many people are eulogized on two separate occasions.
But Thursday's ceremony at the Camp Verde Community Library was an opportunity for family and friends to say plenty about the longtime librarian – and to remember her with the dedication of a bench, plaque and tree which were installed by The Old Guys.
"The whole community of Camp Verde was everything to her," said Alm's widower Bob. "It's why she wanted to work at the library. She said it was like being in the center of the community."
Now with Camp Verde's Economic Development Department, Choe started her employment with the Town at the old Camp Verde library.
"She was the first person to welcome me," Choe said. "She gave me a hug and encouraged me."
Alm was one of many Camp Verdeans who were dedicated to seeing the Town build its new library, which officially opened in November 2016. Camp Verde Mayor Charlie German used a little levity when he talked of Alm.
"I didn't know she had a sense of humor," German said. "She'd always give me crap about 'when are we going to get our new library.'"
German called Alm a "delightful person."
"People loved her," German said. "She helped make Camp Verde what it is."
A slideshow of photos of Alm played in the library's Terracotta Room as Library Director Kathy Hellman and others spoke about their friend.
"She was always interested in helping us out," Parks and Recreation Division Manager Mike Marshall said. "Anything to help the kids."
Hellman remembered how Alm "loved kids – and kids loved her."
Once known as the shyest person in most any room, Cook spoke last before the group went out to the garden to view his mother's commemorative bench, plaque and tree.
"She was the nicest, most loving and kind person," Cook said about his mother. "She didn't have a mean bone in her body. She's the greatest person I will ever know."
-- Follow Bill Helm on Twitter @BillHelm42
More like this story
SUBMIT FEEDBACK
Click Below to: