With five adopted children, 'family is everything,' says Gagnon family
By
Bill Helm
|
BillHelm42
Originally Published: December 23, 2017 10:21 a.m.
CAMP VERDE – In August, Zorey Gagnon turned 2 years old.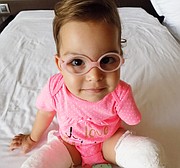 On Jan. 10, her mother will pick her up and bring her to her new home – in Camp Verde.
About 6,460 miles away, Varna, Bulgaria has been Zorey's home since the day she was born.
Born without a left arm or a right foot, and with a severely malformed left foot, Zorey has been the subject of the Gagnon family's desire, as they have spent more than a year working the adoption process to give their new daughter a new life.
That's how things are with the Gagnon family. Darren and Stacey, Zorey's new parents, have taken rather kindly to adoption. Which wasn't their plan as a young married couple with a wish to become parents.
But Darren Gagnon looks back at the birth of their two biological children, 16-year-old Bailey and 14-year-old Silas, which he said was rough on Stacey.
Though they wanted more children, Darren says that both he and Stacey knew that birthing was no longer in their future.
So the Gagnon family looked into being foster parents.
"We had friends who were a foster family," said Darren Gagnon. "They encouraged us."
One day at foster parent training, they were asked a reasonably probative question.
"They asked if we wanted to foster, or if we wanted to foster-adopt," Darren said. "When they asked us that question, we had never really talked about it."
Both Darren and Stacey responded.
They were "open to adoption," Darren said.
'Here's a kid who deserves help'
It seems a long time ago when Stacey Gagnon was in education, a teacher in the Camp Verde Unified School District.
She recently talked about a child who had been placed in foster care – and how he broke down in tears one day.
"He didn't know where he was," Darren Gagnon recalled Stacey telling him. "That was profound in her – in our – thinking. Here's this kid who deserves help."
In 2007, Darren and Stacey fostered their first child, 2-year-old Isaac. The following year, they fostered Ellie, then about 18 months old.
In 2009, they adopted Isaac and Ellie.
Since then, the Gagnon family adopted Joel in 2010 and Israel in 2015.
Darren Gagnon says that once Stacey picks Zorey up from the Bulgarian orphanage, they will be finished adopting children.
Family is everything
Darren Gagnon "can't imagine our family not the size it is."
"Family is everything," he said.
Joel, Israel and now Zorey have been straight adoptions, meaning the Gagnons did not foster them first.
"Foster kids need someone to bond to," Darren Gagnon said.
'A nurse to kids and their parents'
With one child in a wheelchair, one born without an ear, Stacey Gagnon knew what she was getting into. Because Bailey was born with a heart defect, Stacey Gagnon eventually left the classroom because of her experience raising kids with medical issues.
"I felt like I know what that parent was feeling," Stacey Gagnon said. "I realized being a nurse to kids is being a nurse to kids and their parents."
Amniotic Band Syndrome is what young Zorey has. Bulgaria doesn't have the same opportunities as in America. Children born with physical ailments often are placed in orphanages; it's the only way they can get the care their families cannot afford.
In Bulgaria, physical disabilities "absolutely define your future," Stacey Gagnon said.
Not that it's easy anywhere, even in America.
"Doing this is scary at times," Stacey Gagnon said. "But we can't see a need and walk away."
With seven children – five adopted – Stacey Gagnon said "there's no difference" between birthing and choosing your children.
"It's been the greatest blessing in my life," she said.
-- Follow Bill Helm on Twitter @BillHelm42
More like this story
SUBMIT FEEDBACK
Click Below to: