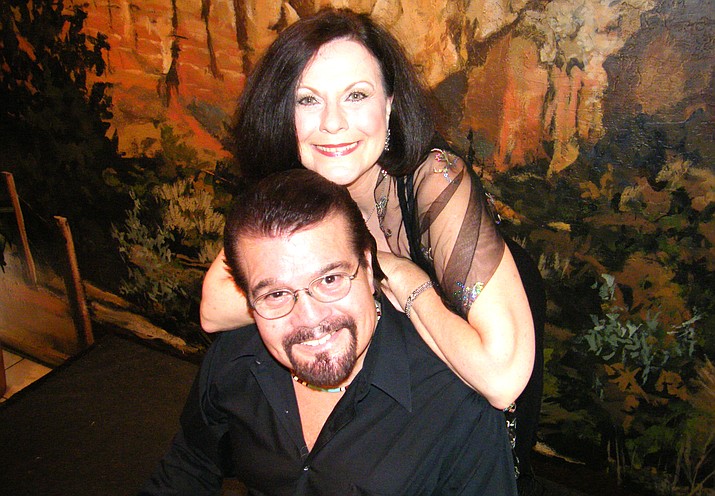 ---
---
Be sure to mark your calendar for a fun-filled performance Friday, December 29th, at the Corner Table in the Village of Oak Creek. Come celebrate the season with some fine music, food and libations while listening to the consummate musicianship of Platinum.
From 6 to 8 pm, keyboardist David Vincent Mills will play songs ranging from holiday favorites to classic artists. Then from 8 to 11 pm, David will be joined by vocalist Rosemary Chavez and drummer Frankie Chavez for your night's entertainment of listening and dancing.
Playing a wide variety of music from Ellington to the Eagles, this combo is about connecting with their audience. You can expect to hear many of your favorite songs performed with a unique flair as only Platinum can do. The band covers a tasty array of Jazz, Latin, Standards, Pop, Funk & R&B.
These talented musicians have been pleasing audiences for years.
They've worked their magic locally at the Sedona Arts Festival, Sedona International Film Festival, Prescott's Concerts at Courthouse Square, "Jim Buchanan and Friends" Concerts, The Prescott Resort & Conference Center, The Sedona Marathon Event, The Prescott Jazz Summit and settings such as Enchantment Resort, Sound Bites, the Desert Flour Bakery, Reds at the Sedona Rouge, Creekside, PJ's Village Pub, and "First Friday Art Walk" and "Festival of Lights" at Tlaquepaque.
Frankie & Rosemary have performed with David for many years and his rich background keeps him playing all sorts of different gigs around Sedona, including his own original projects. As a composer, recording artist and performer, David was educated in Southern California where he performed and taught music prior to moving to Sedona. In his early teens he began studying with renowned pianist and composer Clare Fischer. He has toured with American Idol's Kimberly Locke and has broadened his palette to include all Western musical styles and various musical genres of the world. In addition to David's solo gigs, you can catch him locally with his funk/jazz band DiVoM.
Prior to moving to Sedona, Rosemary performed throughout Los Angeles and was as comfortable singing rock and roll at clubs on Sunset Boulevard as she was singing jazz, standards and big band music at high end events in Beverly Hills. An international performing artist, she has numerous recording and performance credits. Rosemary is the female vocalist of three songs on the movie soundtrack ROAR which aired earlier this year on Turner Classic Movies and which was featured several months ago on the Animal Planet as "The Most Dangerous Film Ever Made." You can also hear her luscious vocals on www.youtube.com as the featured vocalist of the "Sweet Jazz a'la mode" CD. Rosemary is one of Arizona's most sought after vocalists for concerts, clubs and private events. Author Susan Diodati notes "Rosemary Chavez's voice -- rich, supple, tender, soulful, and earthy -- wraps around the notes, the rhythm, the feel of every song she sings."
Frankie's background as a drummer has included several world tours and performances including opening with Dee Dee Bridgewater for Tower of Power and George Benson in concert at the Greek Theater in Berkeley, CA.
His drumming expertise landed him drum endorsements while in Los Angeles as well as numerous recordings and gigs. He had his own successful dance group that performed throughout Hollywood and he, too, is comfortable with a multitude of styles of music.
In 2010 Frankie was included in the book Little Girl Blue: The Life of Karen Carpenter, written by Randy L. Schmidt. In it, Frankie shares his relationship with Karen and how she was inspired to play drums while watching him in the Marching Band at Downey High School in Downey, CA.
Not only were they friends but he went on to become her first drum teacher. The two shared many musical moments together while Frankie shared concepts that he had learned from his mentor, Buddy Rich. In
2016 Frankie was in the documentary The Nation's Favourite Carpenters Songs which was a Shiver ITV production based in London and Leeds England. On camera, he once again shared his relationship with Karen.
Be sure to bring your friends and family to the Corner Table at The Collective on December 29th. The Corner Table is located at 7000 State Route 179, Suite C106, Sedona, AZ 86351. They serve their full menu until 9 pm. There is also light bar food from 9 pm to 11 pm. To make a reservation, please call: (928) 862-4017 and then get ready to have some fun!