Camp Verde, Beaver Creek libraries celebrate 2017 with more patrons, new hours, expanded hours
By
Bill Helm
|
BillHelm42
Originally Published: December 26, 2017 1:37 p.m.
VERDE VALLEY – For years, Beaver Creek's library has been open enough hours each week to meet the needs of the district's students.
For the public, not so much.
In August, the library, a public/school library, expanded its hours to meet the needs of its adult population.
Now open 42 hours each week, the Beaver Creek Public Library is available to the public from 10:30 a.m. until 6 p.m. Monday through Thursday, and from 9 a.m. until 3 p.m. Friday and Saturday.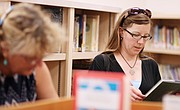 Operated by the Yavapai County Free Library District, the Beaver Creek Public Library converted its conference room into a learning lounge for adults seeking to localize their educational opportunities.
The learning lounge is the "perfect place to facilitate the use of the grant we obtained from the Arizona State Library, Archives and Public Records," Yavapai County Free Library District Director Corey Christians said in August. "This grant is allowing us to provide a Career Online High School; an accredited program that enables students to earn their high school diplomas while gaining real-world career skills."
With its expanded profile, the Beaver Creek Public Library now has one full-time and two part-time librarians to "make sure students, faculty, staff and the public are all getting the best possible service," Christians said.
New building, more patrons
From late-April through the end of July, the Camp Verde Community Library was host Discover NASA: From Our Town to Outer Space. CVCL was one of only eight places nationwide in the nation to host the exhibit.
According to Camp Verde Community Library Director Kathy Hellman, 104,551 people visited the town's new library between December 1, 2016 and November 30, 2017.
CVCL visitors checked out 63,418 physical items and 4,376 digital titles, which represents a 38-percent increase of circulation material. Based on an average value of $15 for each item, those visitors saved a collective $1,015,910.
Library patrons utilized 18,762 free computer sessions, which does not include folks who brought their own devices and used the library's wireless connection.
CVCL also sponsored 797 free programs, Which Hellman said allows the library to "host community meetings, support small businesses, and encourage adult education."
And the majority of the library's staff is unpaid, as 39 volunteers averaged 657 hours per month.
"I am most proud of library staff who met the challenges and embraced change as we adapted to our new work environment, new expectations, and increased activity to continue to make Camp Verde Community Library stand out in the Verde Valley," Hellman said.
-- Follow Bill Helm on Twitter @BillHelm4
More like this story
SUBMIT FEEDBACK
Click Below to: