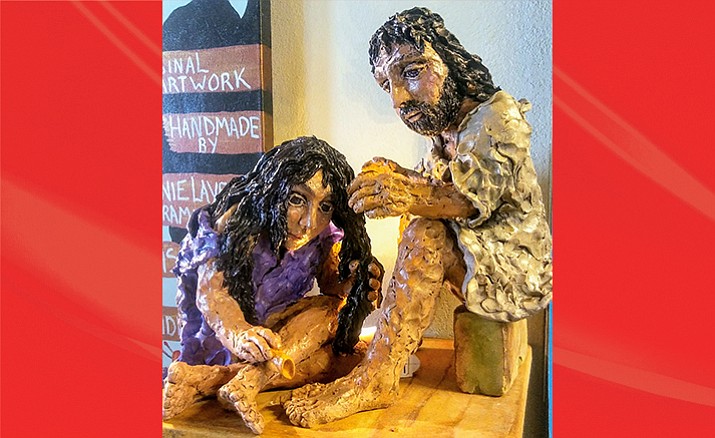 ---
---
Let the party continue the Saturday after New Year's Eve with the Jan. 6 Jerome Art Walk. 
Take the convenient shuttle throughout the town to visit 25 galleries and studios from the Old Jerome High School up the hill to Jan Bruso at The Funky Side Studio in the UVX Building and right near the lovely Surgeon's House on Hill Street. The lively gallery group welcomes back Janie Layers in The New State Motor Company with her wonderful ceramic animals and life studies. Be sure to visit Robin Anderson and Margo Mandette in The Old Jerome High School. They continue to amaze the public with their variety of offerings in this lovely and enormous space. The festivities are from 5 – 8 p.m. every first Saturday. For more information visit www.jeromeartwalk.com or call Donna at 928-301-3004.
The Janie Layers Experience will be christening an expansion at the New State Motor Company with a special performance by home grown Ezra Anderson. Come enjoy food/refreshments and hear songs from his latest CD release, "Dweller." Janie's new space will showcase sculpted scripture narratives in the style of her ceramic animals that depict scenes from sacred writings.
Please join us at Threads on Main for our first 2018 Art Walk, Saturday, Jan. 6 from 5 - 8 p.m. Enjoy champagne and chocolates while you 'Scarf it Up." We'll be featuring a large selection of scarves appropriate for the season by Joan Edelstein, One Wing Studios, Rita Winters, Kavita Singh, and Debra Street.
Pura Vida Gallery will feature new granite beverage dispensers by artist Jeff Henderson. Slip you favorite bottle upside down onto the dispenser and the tap is ready to pour your libation. Join Pura Vida January is the month for recuperation and for chocolates and champagne on the evening of the first January Art Walk in Jerome.
After a long stretch of holidays, as well as the winter solstice, one needs the reward their survival efforts by enjoying some fine art. Visit Yester Day's Fine Art Gallery, located at 509 Main Street, on Jerome's first Art Walk for 2018, where relief is found in landscapes in oils, watercolors, and also in art work in wood and bronze.
 Zen Mountain Gallery welcomes Fine art ceramicist Luna Patterson as featured artist for January Art Walk. Luna Patterson is known for the beauty of her hand built forms and remarkable color achieved through pit firing. Luna's work epitomizes Zen Mountain Gallery's emphasis on contemporary and contemplative fine art, while maintaining a beautiful organic simplicity. Please join us for wine and food as we celebrate the New Year and Luna's new work.
The Jerome Artists' Cooperative Gallery celebrates Jerome's First Saturday Art Walk with an all-member show aptly entitled, "Ringing in the New Year." Co-op members are encouraged to display new work which may include work outside their currently juried mediums.
Chris Ryback, Mark Foltz and Florence Flynn are among the 35 Co-op members who have taken on the challenge of creating new work and are looking forward to sharing their results with you during the Co-op's "Ringing in the New Year" event. From jewelry art to wearable art, from gourd art to ceramics, from wood art to carved art, from paintings and mixed media to photography, note cards, mosaics, glass and stained-glass art, this event is sure to please. Open daily from 10 a.m. to 6 p.m. with a reception for the artists from 5-8 p.m. Saturday, Jan. 6. Refreshments will be served. The Jerome Artists' Cooperative Gallery 502 N. Main St. in the old Hotel Jerome.
Made in Jerome Pottery is going to have live music and snacks and will feature a nice selection of new designs by Dave Hall, Jane Moore and others.
Susan Pitcairn's "The Brilliant Landscape" continues at Gallery 527 in Jerome during First Saturday Art Walk on Jan. 6 from 5 - 8 p.m. Anchored by "Timeless Beauty," a 40 x 54 oil and the largest painting she has ever done, Pitcairn's new work includes vibrant oils and pastels from the 2017 Sedona Plein Air Festival as well, plus an exciting new piece, "Deep Time Sedona," a partially imaginary look at how the Verde Valley could look in a million years.