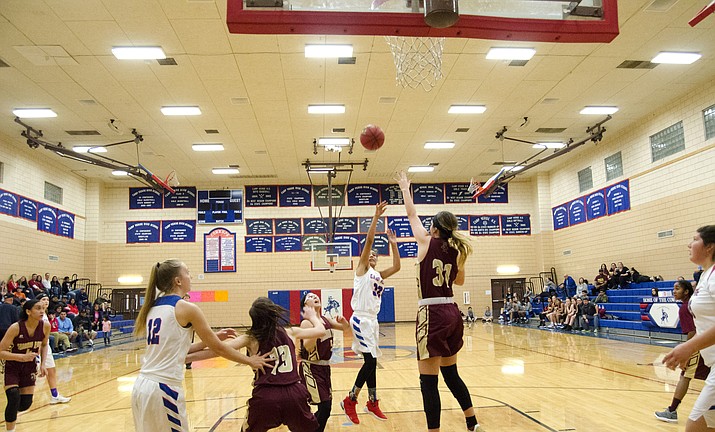 Originally Published: December 30, 2017 1:01 p.m.
On Friday Camp Verde High girls basketball split their first two games of the Yvonne Johnson Memorial Tournament.
The No. 6 Cowboys (13-3) opened up with a 50-18 win over Joseph City. It was CV's seventh straight victory, all by at least 25 points.
"Joe City was pretty aggressive, which was good, because it allowed our kids to also be aggressive offensively and defensively and like so many of the other games we played, it gave us an opportunity to get a lot of kids some playing time again to work on some execution," said CV head coach Mark Showers.
Sophomore Jacy Finley scored 13 points and junior Hope Ontiveros had 11. The Cowboys ran out the clock in the fourth, scoring just two points.
Then in the afternoon the 2A Cowboys faced 5A No. 22 Surprise Shadow Ridge. The game was neck and neck until the Stallions pulled away in the fourth quarter and won 59-50.
"We played a team that we were pretty evenly matched with and we made lots of mistakes, we missed a lot of easy lay ups, missed a lot of free throws and we did not adjust to the style of play very well, which is the mark of a young team," Showers said.
The Cowboys were 6-for-23 from the free throw line, 4-for-11 in the fourth quarter.
"One of the things that you learn is adjusting your style of play, adjusting your aggressiveness so that you're not picking up dumb fouls, learning to play together," Showers said. "I wanted to play this team in the first stage because I wanted to play a really strong team that would test us and they did. So the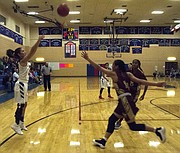 second game (Friday) against Shadow Ridge was a huge learning experience for us and it was really good for the kids."
Finley scored 17 points, grabbed 13 rebounds, six on offense, had three steals and was 4-for-7 from the free throw line. Ontiveros scored 12 points on four 3-pointers.
SR senior Aniaja Mauk lead all scorers with 27 points.
The tournaments offer the chance for teams from different conferences to face off, like on Wednesday boys 6A No. 1 Brophy Prep played 2A No. 1 Rancho Solano Prep. In the latest AIA census, Camp Verde had 442 students and Shadow Ridge 2,013.
"It's a team that we'll never see any other time, so it's nice to be able to play a team like that," Showers said. "I think they're ranked 22nd in the 5A, so they're not a slouch team, they're a decent team, so it was nice to be able to pay some body that pushed us and they pushed everyone of them, they pushed the guards, they pushed the post players, they made us work harder, so it was a good game for us."
Although the Cowboys' win streak was snapped, Showers said it was good to play a close game, their first since early December.
The 2A Central features No. 3 Sedona Red Rock, No. 8 Glendale Prep and No. 12 Paradise Honors.
"We need more games like that, because that's what we're going to see in the regular season," Showers said. "We're gonna see three teams in our region are very strong. In fact right now I think four of our teams are ranked in the top 10 of 2A, so it isn't gonna be easy."
More like this story