Clarkdale-Jerome begins process to find next school superintendent
By
Bill Helm
|
BillHelm42
Originally Published: February 7, 2017 2:34 p.m.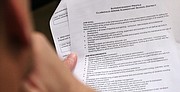 CLARKDALE – Educators don't take for granted the hard work involved in finding the right person to lead their school districts.
The folks at Clarkdale-Jerome School District are fortunate that they have Kathleen Fleenor as their superintendent.
Though she served 13 years in charge of the district, Fleenor right now is serving as interim superintendent, following the October 2-16 departure of Scott Jacobson, after less than 12 months in the top seat.
When she promised upon her Jan. 2016 retirement to always be a telephone call away, she meant it.
Fleenor, back at CJSD since Jacobson's departure, will stay on until June 30 – when the district looks forward to transition from Fleenor to her replacement.
According to Fleenor, Clarkdale-Jerome looks forward to posting the open position at or about Feb. 15. Until the job posts – and likely after it posts – the school is utilizing several community resources to decide exactly what – who – it believes can best move the district forward.
"Someone who knows about small schools," Fleenor says. "Someone really interested in this community and understands its dynamics."
Though she completely understands that not all leaders have worked their way up in their professions, Fleenor says that a school's superintendent cannot be foreign to the inner workings of education.
"You have to have walked in those trenches. You have to know what it's like as a teacher, a principal," Fleenor says. "That background knowledge helps you form opinions."
Most importantly, Fleenor says education isn't a job. At least not like the average day job that a worker can leave at the time clock on the way out the door.
"Teaching – and education – they come from the heart. That feeling, that drive that keep you going," Fleenor says. "As a superintendent, you have to be able to organize, and to be flexible. But you need that determination to find a way to persevere, to find a solution for our families in our community. It's that stubbornness, that refusal to give up."
And the ability to believe in one's self. Fleenor, though she says she will be available as needed to her replacement, says she will not be in that person's way, neither literally nor figuratively.
"Whomever comes in, I'm turning this over to [him or her]," Fleenor says.
Once the job is posted, Fleenor says the district will take applications for one month, with a target date of March 15 to close the posting.
"That should give enough time to properly screen the applicants, I'm assuming a week, maybe a week-and-a-half," Fleenor says. "Then we'll start scheduling interviews. But that will be up to the search committee."
Actually, CJSD will utilize three committees to find Fleenor's replacement.
On Feb. 1, a committee of community leaders and district personnel met to consider goals and requirements of the job, and also which questions to ask in the interview process.
The committee of community leaders spent the majority of their Feb. 1 meeting finding common ground on what should be asked of a prospective superintendent. "Child-centered responses" would indicate what a candidate believes is most important, one committee member says.
Among the committee members were both Fleenor and school Vice Principal Steve Doerksen, former superintendent John Tavasci, Clarkdale Police Chief Randy Taylor, Lisa Sandoval with the Yavapai-Apache Nation's Higher Education department, as well as parents and local businessmen.
Charged with deciding what should be asked in the interviews, the committee of community leaders will not take part in the interviews. At least not as a group.
Before meeting with the district governing board, candidates will be interviewed by three different groups: a committee of parents; a committee comprised of district staff, including teachers and administrators; and a search committee.
In the past, the superintendent at Clarkdale-Jerome School District has also served as the school's principal. But this will not be the case with the new hire, Fleenor says.
-- Follow Bill Helm on Twitter @BillHelm42 and on Facebook at @CampVerdeBugle
More like this story
SUBMIT FEEDBACK
Click Below to: