Camp Verde Business Alliance 'not trying to compete' with Chamber
New organization holds mixer, announces desire to help businesses, town 'be successful'
By
Bill Helm
|
BillHelm42
Originally Published: February 9, 2017 12:40 p.m.
CAMP VERDE – Perhaps some people are asking what the difference is between the Camp Verde Business Alliance and the Camp Verde Chamber of Commerce.
Ask B. J. Davis, and he said that's not the right question. According to Davis, president of the CVBA, the new organization "is not trying to compete" with the Chamber.
"We're just trying to help businesses and the town be successful," Davis said just before the start of the CVBA's mixer Wednesday at J.T. Bistro in Camp Verde.
Camp Verde Business Alliance is a member of Local First Arizona, an organization designed to help people "build the life they want in their local community," according to a statement on their website.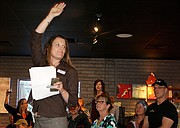 "Organizing ourselves for the past six months, the CVBA was "now ready to open our doors," said CVBA Founder and CEO/Treasurer Ed Lee. "Local First Arizona has also come on the scene here. And we're going to be working with them."
According to Lee, Camp Verde Business Alliance was designed to lend support to local businesses, to help put them into a position to succeed.
Close to 100 interested community members attended the mixer at J.T. Bistro, owned and operated by local chef John Teah. Teah said he looks forward to the relationship with the CVBA.
"We need people to represent this community in the interest of small business," Teah said. "We need a voice, someone to stand up for us."
The mixer, sponsored by Camp Verde Business Alliance, Local First Arizona and the Town of Camp Verde, was geared to brainstorm creative ways toward greater success.
Presentations came from Local First Arizona's Kimber Lanning and Ruth Ellen Elinski, Camp Verde Mayor Charlie German, and CVBA Vice President/Marketing and Membership Director Julie Scott.
Lanning told the group Wednesday that Local First Arizona was founded in 2003 to create "a level playing field for local businesses."
"Economy is like peanut butter," said Lanning, Local First's founder and director. "You've got to spread it all around. And we as consumers need to think local first."
Scott, a former employee of the Town of Camp Verde, is not a business owner. In fact, CVBA does not require its members to be business owners.
"Our objective is to bring awareness of the CVBA, Local First Arizona, and how we all can benefit the businesses, supporting both them and the town," Scott said. "We're a member-based organization. We call them partners. You don't have to have a business. We're a group that wants to see Camp Verde thrive."
Leslie Fox, manager of the Verde Valley Farmers' Market in Camp Verde, was approached by both Local First Arizona and the Camp Verde Business Alliance to help plan the mixer that gave people an opportunity to learn about new opportunities, test their marketing skills and local trivia knowledge and win raffle prizes.
"We want to get to know other local businesses and to see how we can collaborate and work together," said Fox, also a member of Local First Arizona.
For more information, or to become a partner with the Camp Verde Business Alliance, contact Julie Scott 928-963-1085 or leahmariesmom@gmail.com.
-- Follow Bill Helm on Twitter @BillHelm42 and on Facebook at @CampVerdeBugle
More like this story
SUBMIT FEEDBACK
Click Below to: