Camp Verde school board votes to continue four-day week
By
Bill Helm
|
BillHelm42
Originally Published: February 16, 2017 1:46 p.m.
CAMP VERDE – With a 3-to-2 vote Tuesday, the Camp Verde Unified School District's governing board decided to retain the four-day school week at its elementary, middle and high schools – and to stick with the five-day school week at South Verde High School.
But it's the back story – as well as the story moving forward – that not only saw to fruition the two-year experiment that now prepares for its fourth year, but also the fact that next year, the district will again decide whether or not to continue as only they and Beaver Creek School District have done within the roster of Verde Valley schools.
"I think it's great for families. And I think it's great that Camp Verde continues to move forward with this model," said Karin Ward, who serves as both principal and superintendent with Beaver Creek School District. "If it works for the Camp Verde school district, then they should continue to do it."
Though the Beaver Creek district is in its second year on a four-day schedule, its board's decision to go from five days to the shorter week has nothing to do with Camp Verde's decision three-plus year ago.
"When we looked at four-day, we'd first looked at it six, seven years ago," Ward said. "But three years ago, it was the 21st Century funding for Fridays that allowed us to go to four days."
Originally an after-school program that offered both extracurricular and what is known in districts as "credit recovery," BCSD's 21st Century program now offers the academia after school each day, while Fridays are an opportunity for "enriching activities for the children in our communities," Ward said.
From the heart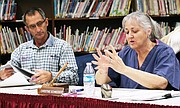 At Camp Verde Unified School District's public forum two weeks ago, many people spoke passionately about whether their schools should be in session four days – or five days. Overwhelmingly, the speakers were in favor of the four-day week.
Topics such as quality family time, time to do homework, even the needs of split families and potential custody battles were brought up by students, parents and teachers who were not interested in a change of schedule.
According to Camp Verde Unified School District Superintendent Dr. Dennis Goodwin, approximately 94 percent of persons who either spoke at the Jan. 31 forum or responded directly to the school voted in favor of the four-day week.
So why was the board's vote 3-to-2?
"Is it the board members' responsibility to vote for what is popular?" Dr. Goodwin asked. "Or what is best for the kids? They each voted what they believed to be best for our district. They each shared what they believed. How they voted was a reflection of that."
In a school district, its governing board is charged with deciding how the district is to be handled. The superintendent does not get a vote – instead, he is charged with following the board's collective direction.
"As parents, we sometimes make decisions our kids don't like," Dr. Goodwin said. "And the board sometimes makes decisions that parents don't like."
Moving the target
Beginning with an analogy, board member Helen Freeman told her fellow board members that the Jan. 31 forum "moved the target – to [the idea of] a three-day weekend."
"And that's not the target we were looking at," Freeman said. "I've been disappointed that what we thought we were getting, we haven't gotten. I don't know what the answer is."
About the roughly 50 speakers at the Jan. 31 public forum, board member Kitty McDowell approximated that a "good percentage were students."
"And a lot were teachers," McDowell said. "But the majority of our school district doesn't have caring, supportive families. I believe all students, all children who were there would succeed whichever [decision we make]."
Also referring to fifth-day programs, Freeman echoed the sentiment of all board members who said the success of the four-day week in part was based on the success of the district's Friday offerings.
"I believe that this model can effectively and truly replace the failing school models that we have had for the past 50 or more years," said board President Christine Schneider. "Do I believe that every family or student will take advantage of this opportunity? No. Students and their families have their own agendas on what they want from their public school programs. Will those with minimal socioeconomic resources participate? Some will and some won't. It is the parents' and students' accountability to choose whether to participate in this new model of educational opportunity."
Deciding vote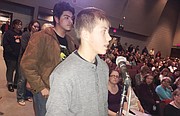 When Camp Verde Unified School District switched to the four-day school week beginning with the 2014-2015 school year, Tim Roth was not yet on the board.
"I was shocked," he said before that original vote. "But my kids are succeeding. I'm [now] for the four-day."
With votes in support of four day delivered by both board members Roth and Eric Lawton, followed by votes against four-day by both Freeman and McDowell, the board president spoke, then delivered a 'yes' vote to keep the schedule at four days each week, and to include the district's Friday programs.
Schneider then told the board she supported the four-day week because she "believe[s] we would hurt our schools and our youth by eliminating fifth-day programs and returning to standardized five-day-a-week school scheduling without innovative educational programs."
"Having this opportunity is only available with a four-day didactic, and a dynamic and enthusiastic fifth-day educational schedule," Schneider also told the board.
What's next?
The board's collective decision to keep the four-day week was coupled with another collective decision – that the board would decide again this time next year whether to keep going at four days, or to return to five.
Before its March meeting, the board will schedule a work session with Dr. Goodwin to consider calendar options for the 2017-2018 school year.
"I'll probably start with a raw calendar, give the board a chance to create a calendar" Dr. Goodwin said. "We'll start with at least 150 days. We have to get to how many days. Then what format [the board wants] to follow."
-- Follow Bill Helm on Twitter @BillHelm42 and on Facebook at @CampVerdeBugle
SUBMIT FEEDBACK
Click Below to:
More like this story