Maruaders coach optimistic about season
Mingus Union returns six starters from last season's state semifinalist
Originally Published: February 16, 2017 1:22 p.m.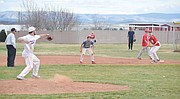 COTTONWOOD – With six returning starters, Mingus Union baseball looks poised for another deep run in the state tournament.
Last season the Marauders went 24-9 and lost to eventual state champion Alhambra in Division III semifinals. After the AIA realigned, Mingus Union are now in 4A.
While the Maruaders did not have the most prolific offense recently, Mingus Union head coach Bob Young thinks it will be better this season.
"That's something that we've struggled with a little bit the past couple of years," Young said. "Our strength has been pitching and defense, but I think we're going to be better offensively, I'm hoping we're gonna be better one through nine. We've been pretty good one through six and then we've had some holes but we're really working on trying to be more balanced."
Led by senior catcher Gus Henley, who was all-state last year, Mingus Union returns two thirds of their starting lineup. Henley hit .500, 39 RBI, 11 doubles, three triples and three homeruns.
Junior pitcher/third baseman Tyler Kelly was also all-section last year.
Young expects Mingus Union's defense to be good again.
"Defense we should be good," Young said. "The last two or three years we've had a really good defense and we've taken a lot of pride in it, we've got some good athletes that can get things done, so I think our defense should be strong."
Senior first baseman/pitcher Mitchell Lindsay, junior shortstop Skylar Waynick, junior pitcher/infielder Andrew Kulis and junior Jordan Huey pitcher/outfielder are the other returning starters.
While the Marauders may not have a dominant pitcher right now, Young says they have a lot of good ones.
"I don't think we have a dominant pitcher, but we have a lot of guys that are good, good solid pitchers that can get guys out and they've had a lot of experience in big games and state tournaments," Young said. "So I feel good about that."
Mingus Union's first action this season is a scrimmage at Scottsdale Christian at 11 a.m. on Saturday. Then they open the season by hosting Combs at 3:45 p.m. on Thursday.
A day later, Mingus hosts Greenway, which won the Division II state championship, which is the equivalent of 5A.
Young said their schedule is a lot tougher than last year.
"Starting with our region," Young said, "we've got Prescott, Bradshaw, they're always two of the best teams in the state, Flagstaff, Coconino are always good, non-conference, our second game next week we play Greenway, they're defending state champs so it's a tough schedule, a lot tougher than last year."
Young said the only winter sport athletes they have on varsity are one basketball player and one soccer player, so they aren't having to integrate players in who haven't been practicing.
"They've been out here, so they're ready to go," Young said.
Young said his concern about the team is its depth but they are working on it.
"We've only got really two seniors that have ever played, so we're not real deep in that area," Young said. "I think we're 10 or 11 guys really good and then there is a big drop off, so we're really working hard to try and develop more depth, so I think going in that's our biggest weakness."
SUBMIT FEEDBACK
Click Below to:
More like this story