Lady Cowboys softball ready for 2017 campaign
'We're looking pretty sharp'
Originally Published: February 18, 2017 11:35 a.m.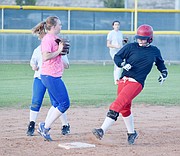 With most of their 2016 state runner-up team returning, Camp Verde softball looks like contenders again.
After finishing last season 30-7 and making it to the state championship game, the Lady Cowboys only lost Taya Smith and Paige Church.
"We're looking pretty sharp, we have plenty of returning players," said Camp Verde head coach Henry Smith. "For the most part we have the same exact team, that took us to the state championship last year."
While replacing ace Taya Smith, the 2016 and 2015 Division IV Section I Player of the Year, will be a tough task, freshman pitcher Jacy Finley has impressed Henry Smith — even though she's been playing basketball the first couple weeks of February.
"We lost our ace last year, Taya Smith, but Jacy Finley, she pitched all summer for me in Juggernaut Softball," said Henry Smith, who won Division IV Section I coach of the year in back-to-back seasons. "We played in 16 and under and 18 and under tournaments and she did great, so we're looking for her to jump right in and be productive."
In addition to Finley, fellow freshman Jojo Cowsert and senior Maddie Johnson are new additions to the pitching staff. Plus the Lady Cowboys expect last year's No. 2 hurler, Carlee Oesterreich, who is recovering from a knee injury, to play again late in the season.
"(Cowsert) doesn't have a whole lot of experience in games, but she's been looking very sharp in practice, she's learning, listening and being productive," Henry Smith said. "We have senior pitcher Maddie Johnson, who I haven't seen pitch in a game at all, but she's thrown a bit in practice and looks sharp."
Led by 2016 all-section first-teamer Kayla Hackett, Henry Smith expects as many as five basketball players to join the softball team after the cagers went deep into the post season.
Henry Smith expects the experience of Hackett and sophomore Tyra Smith to help them readjust to softball after they played in the state championship game last year.
Tyra is Henry's daughter and Taya's sister.
"I don't think it's going to be much of a challenge or obstacle to bring them back, to be productive right away," Henry Smith said.
While AIA realigned this season to base the placement of schools on their enrollment, Henry Smith said it's not issue to Camp Verde.
The Lady Cowgirls lost to Pueblo in the Division IV state championship game. The Tucson school's enrollment was 1,604, which moved them up to 4A this year, two levels above Camp Verde, whose enrollment was 442 last year.
"Really my coaching style is to focus on our team, to focus on individual strengths and basically whoever we face, we're going to give them the best that we have for each day and whatever the outcome, so be it," Henry Smith said.
"So it's not so much the alignment or who we play next or the upcoming or state title or district champ or conference sectional champ, it's really just about being productive and being a good strong athlete and when you do that, you're naturally going to be successful."
Camp Verde opens the 2017 campaign on Wednesday when they host Mayer at 3:45 p.m.
"We're looking to be contenders again this year, we're looking to return and hopefully have a different outcome in the state championship game this year," Henry Smith said.
More like this story
SUBMIT FEEDBACK
Click Below to: