Special handling required: Due to light sensitivity, Archaeology Center rotates Dyck Collection's textiles exhibit every five months
By
Bill Helm
|
BillHelm42
Originally Published: February 21, 2017 1:39 p.m.
CAMP VERDE – Many of the artifacts on display in the Verde Valley Archaeology Center's Dyck Collection are "relatively permanent," said Ken Zoll, the center's executive director.
Though relatively permanent in this case means that they are on display for the year, it's still more long-term than the collection's textiles, which are more sensitive to light and must be rotated out every five months, Zoll said.
Last week, VVAC swapped out weavings for the third time since the Dyck Collection first went on display.
"We placed a card with different shadings of blue under a sandal on display," Zoll said. "Half of the card is covered, half is exposed. Every month, we can compare it to see how the colors have faded, so we can gauge how to [better] preserve the materials."
Lighting does not affect any other portion of the Dyck Collection, Zoll said. "But it could fade the material."
"It may be overkill [what we're doing]," Zoll said. "But we'd rather follow the museum standards and be extra cautious."
One of the artifacts in the current textiles collection is a fully-intact sandal that according to Zoll "has all the cordage that would hold it onto their feet and around the ankle."
Since the Archaeology Center first acquired the collection in 2015 – and its subsequent cataloging and documenting of the artifacts to prepare for public viewing – about 100 of its nearly 20,000 items have been on display, Zoll said.
Believed to be one of the largest intact Sinagua collections assembled from a single location, the collection dates as far back as the 12th Century and had been housed in a rockshelter on Dyck's Rimrock property in a small Sinagua dwelling.
At the time of its discovery, Zoll said the donation of this "significant collection is a major gain for the Verde Valley" because it is a "near-complete picture of life" in the Verde Valley almost 1,000 years ago.
Chakoptewa
Before his passing in 2012, Scottsdale's Michael Hawley was a ceramic artist and historian whose focus was making modern-day ceramics that were reminiscent of the designs, methods and techniques of ancient Hopi.
His work, according to Zoll, was not an attempt to reproduce, but simply made of inspiration, "of the style made many years ago.
One of those pieces, a Sikyatki polychrome-style jar donated by VVAC Director of Archaeology Todd Bostwick and his wife Heidi Bostwick, is now on display at the Archaeology Center.
Hawley made the jar of clay he was "allowed to mine" on the Hopi mesas of northern Arizona, Zoll said. The clay came specifically from indigenous clays from ancient clay beds on the mesas, and Hawley hand-ground native materials and plant material to create the paint pigments.
The jar is signed Chakoptewa, which according to VVAC was Hawley's adopted Hopi name.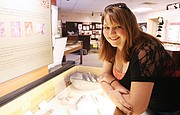 Found her way back home
Now 23, Ashley Quinn was born in Cottonwood, where she and her family spent the first four years of her life before they moved to north-central Colorado.
A recent graduate of Adams State University in Alamosa, Colorado with a degree in Anthropology and an emphasis in Archaeology, Quinn is back in the Verde Valley as VVAC's newest intern.
The internship, Quinn said, is an opportunity to "learn more about the history of the Verde Valley," as well as a chance to "get my foot in the door, starting my career in archaeology."
Quinn has been interning at the center for the past four weeks, and is scheduled to be on site at least "through the end of March," she said. Though she doesn't have any specific archaeological goals or plans, Quinn said she one day would like to go to Egypt.
While an eighth-grade student, Quinn was required for her history class to write a paper "on something of interest to us."
She wrote about Egyptology. Ever since then, she's wanted to be an archaeologist.
Verde Valley Archaeology Center is located at 385 S. Main St. in Camp Verde. For more information, call (928) 567-0066. Hours are 10 a.m. to 4 p.m. Tuesday through Saturday.
-- Follow Bill Helm on Twitter @BillHelm42 and Instagram @VerdeValleyNews
More like this story
SUBMIT FEEDBACK
Click Below to: