Camp Verde softball pounds Mayer, 15-2
Jacy Finley hitless in three innings on mound
Originally Published: February 23, 2017 1:45 p.m.
CAMP VERDE -- Led by freshman pitcher Jacy Finley, who held Mayer hitless, Camp Verde softball opened the season with a bang.
Finley (1-0) pitched three innings and gave up zero hits as the Lady Cowboys beat Mayer 15-2 in five innings at home on Wednesday afternoon. Finley eight of the ten batters she faced.
"I'm proud of Jacy, it was exciting times for her to come in and see what she was going to do and to pitch a no-hitter in her first game shows a bright future for her," said Camp Verde head coach Henry Smith.
Not only was it Finley's first high school game and first appearance in a Camp Verde uniform since playing basketball last Friday, it was her debut as the Lady Cowboys' new ace.
"It felt good," Finley said with a laugh when asked about her first high school game. "I don't know (laughs)."
Last year's ace Taya Smith, the 2016 and 2015 Division IV Section I Player of the Year graduated.
The win was also the debut for freshman pitcher Jordyn Cowsert. She pitched two innings in relief, giving up one earned run, two hits, a walk and striking out two.
"For both freshmen to come in and throw well, that's a huge positive for us," Henry Smith said. "We know that we're going to be able to rely on them later in the season."
After a scoreless first inning in which they left two Lady Cowboys on base, Camp Verde batted around in the second, scoring 11 runs.
"We started out with the first game jitters I think and then we settled in by the second inning," Henry Smith said. "So that's something we talked about: coming out hot, I think that's probably something that we need to focus on, coming out, starting the game hot and finishing hot."
Last season Mayer went 18-7 and advanced to the second round of the Division V state tournament.
Finley said she didn't mind the long offensive innings that Camp Verde had and the cold and wind.
"We did pretty good for it being our first game and everything and we could've done better but we've improved as we've been practicing, a lot, even if it's just the beginning of the season," Finley said.
Camp Verde added four more runs in the third inning.
Madison Johnson went 2-for-2 with 3 RBIs, a double and a run, Kayla Hackett went 3-for-3 with 2 RBIs, a double and a run, Jade Oium went 2-for-2 with 2 RBIs and 3 runs and Amber Dodge was 3-for-3 with 3 runs, 1 RBI and a double.
"I think we're coming together as a team very nicely and that we just need to keep up this energy and the team work and just keep driving through the season," Dodge said.
While the Lady Cowboys added a bunch of players from the basketball team that made it into the last 16 of the state tournament and so only had two practices before the first game together, Henry Smith said they fit in well.
Tyra Smith scored a run, stole a base and was stranded once and had a 1.000 fielding percentage.
"They did great, all of them that played basketball came in and contributed big," Henry Smith said. "Tyra came out and hit well and played defense well, Kayla came in and made some big plays and looked comfortable in positions, she played two different (Wednesday) and played well. I think we're right back in it, give us another week of practice."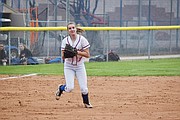 Henry Smith said the slow start was a concern but he thought it was because the team was playing at home and anxious to play again.
"They're experienced ball players and the added pressure of playing at home, with the family and friends here to watch them and sometimes they want to do a little bit more than they need to," he said. "I think we just came out a little too excited, too anxious and it was a long wait from last year."
More like this story
SUBMIT FEEDBACK
Click Below to: