Mingus boys track strength lies in middle distance events
Versatile senior Ryan Alexander leads Marauder runners
Originally Published: February 23, 2017 1:15 p.m.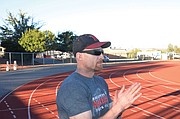 COTTONWOOD -- Despite being young, a strong group of middle and distance runners inspires hope for Mingus Union boys track and field this season.
There's also been "a lot of interest" in the team this year, said Mingus Union head track and field coach Yancey DeVore.
"We're young in the boys, we don't have a lot of depth in the sprinting corps, we've got some kids that need to develop there, some kids we're excited about that are a little bit younger," DeVore said. "Our strength for the boys is that middle distance, we're going to be very strong in the middle distance right now."
The Marauders open the season March 4 at the second annual Small School Invite (D3/4) at Seton Catholic in Chandler.
While describing the Mingus Union runners, DeVore lumped the middle distance and distance together as they have a lot of depth there and versatility. DeVore said senior Ryan Alexander can run sprints.
"That's where our strength is at right now, going into the season, Ryan Alexander is kind of the head of that group, with Jon Ulibarri and there is other athletes there, like Dallin Gordon and Keegan Cain," DeVore said. "There are just a lot of athletes in that range, in the middle to distance are really good and our strength of our team right now is probably more in that middle distance corps, because some of those guys like Ryan can also run sprints, like the 400, he's our fastest 400 guy but he's also our fastest 800 guy and probably our 1600 right now."
DeVore said the middle and distance runners also boasts guys that may not be the fastest but lead the team by pushing the younger runners, like seniors Tyler Lewis and Justin Stuart.
Junior Jonathan Jung leads the sprinters.
"Right now that's one of the things we're trying to develop," DeVore said. "We have Jonathan Jung, he's right now our most experienced and best sprinter, he's also one of our top jumpers, but there is some younger athletes, like Colby Fanning that we're really excited about, he's a first time runner but he's a sophomore. So hopefully we can get some of those younger kids developed a little bit."
Jung also could be Mingus' top athlete in the triple, long and high jumps.
DeVore said he has been impressed with sophomores Michael Thurman and Nick Bloniarz in the jumps.
"He's just a really good athlete," DeVore said. "And there is some younger kids that may be able to help us out like Michael Thurman has been going out there and working really hard, he's really young, he's still got to develop, but I'm not sure where he's at but he's worked hard. But right now as it stands right now, Jonathan is our best guy in all the jumps right now."
A new wrinkle this season is the Verde Valley Track Club, started by DeVore and his wife Jennifer, to give the kids an option to work out during the winter.
"I think it's just kinda given the little core group of athletes that showed up through the winter and I think it's really paying off for some of them," DeVore said.
The Marauders are also young when it comes to hurdlers and they're trying some older athletes there to see if it's a fit.
"We're trying to develop some of those athletes there Nick Lodico's in there, Jordan Pollock and there's some younger kids that could develop into good hurdlers," DeVore said.
Finally Mingus Union's throwers are also inexperienced, a mix of younger and new throwers.
DeVore has been impressed with sophomores Kendrew Streck, Zach Moreno and Christian Ruiz
"These are guys that put the effort in, and they come out and work hard," DeVore said. "So I'm excited to see how they develop this year. Kendrew I think can do really well if he can just makes sure that he's developing as a throwing and working on good technique and stuff, he can be a really good thrower."
SUBMIT FEEDBACK
Click Below to:
More like this story