Yavapai-Apache Nation distributes Prop 202 Arizona Indian Gaming funds to Jerome, Clarkdale, Camp Verde
By DON DECKER YAN News
Originally Published: February 23, 2017 12:18 p.m.
Yavapai-Apache Nation executive officers Chairwoman Jane Russell-Winiecki, Vice Chairman Larry Jackson, Sr. and council members Rachel Hood, Siera Russell and Annette Mendez met with Clarkdale and Jerome city officials on Tuesday evening, February 14, to present each city with a $18,773.64 check from the proceeds of the 12-percent set-aside Gaming Revenues of the YAN casino. This agreed amount is based on the State of Arizona Compact Agreement with Indian Gaming Nations of Arizona.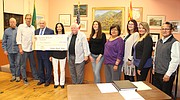 "It is with a distinct pleasure to be here tonight representing the Yavapai-Apache Nation and to be able to forge a relationship with Jerome. I don't know how much you know of our history. One hundred forty-two years ago, on February 27 we were forced marched and went to a place called old San Carlos. We commemorate the fact that those people left the valley and were able to return back," said Chairwoman Winiecki in acknowledging the past and the historical outcome of an Indian nation helping non-Indian communities today.
Chairwoman Winiecki said that the Nation's gaming activities plays an important role in the Verde Valley by providing employment and that the opening of a 4-diamond resort in April at the casino will provide employment opportunities for residents of the surrounding areas.
"Yavapai-Apache Nation is the largest employer in Verde Valley and we are happy to be able to contribute in this way," said Chairwoman Winiecki.
Chairwoman Winiecki stated that Proposition 202 "Indian Gaming and Self-Reliance Act" (November 5, 2002) was initiated as a state law which paved the way for a formal agreement between Indian tribes of Arizona and the State of Arizona to conduct gaming on Indian lands.
Not all Arizona Indian tribes participate in Indian gaming.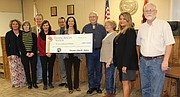 The cash awards being made to Verde Valley entities is a result of the Proposition 202 that sets aside millions in revenues that the state uses in supporting local schools, public government service programs, trauma and emergency services centers throughout the state, wild-life and conservation programs, tourism promotion and a myriad of other support services paid for from Indian gaming dollars.
Chairwoman Winiecki and the administration met with Yavapai County in Cottonwood on Wednesday morning and with the City of Camp Verde in the evening on February 15 to continue with the awarding of the 12-percent set-aside funds. Other cities slated to receive funds are Sedona and the City of Cottonwood.
More like this story
SUBMIT FEEDBACK
Click Below to: