Yavapai-Apache Nation remembers its exodus
Annual commemoration day includes spirit run, blessings, cultural performances, food
By
Bill Helm
|
BillHelm42
Originally Published: February 23, 2017 12:14 p.m.
CAMP VERDE – At about 10 a.m. Saturday, a near 30-hour run from San Carlos will conclude as members of the Yavapai-Apache Nation will meet on Middle Verde Road in front of the Yavapai-Apache Cultural Center.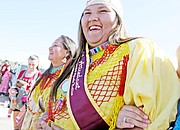 The joining of the peoples is symbolic of the return of the Yavapai and Apache to the Verde Valley in the early-1900s.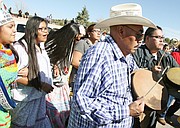 Beginning at noon at Veteran's Memorial Park, located below the Cliff Castle Casino Hotel, members of the Nation will sing songs, celebrate with cultural performances, arts and crafts, food – and most importantly, remember their ancestors who 142 years ago were collectively forced to leave all that they knew as home.
Each year on the last Saturday in February, the Yavapai-Apache Nation remembers its collective exodus from the Verde Valley – and its banishment to the Indian Agency at San Carlos.
On Feb. 27, 1875, about 1,500 Yavapai and Apache from the Rio Verde Reserve were forced to march roughly 180 miles east of Camp Verde to what would be their new home. Not only were the Yavapai and Apache peoples incarcerated, but for the next 25 years their lives were irrevocably changed, as they experienced great hunger and disease.
By the start of the 20th Century, the two nations had become one. Their captors also finally released about 200 Yavapai and Apache – and sent them back home. But many years away had changed what had once been their home, as Anglo settlers set up homesteads and ranches.
Then, a much smaller portion of land in the Verde Valley was set aside for the Yavapai-Apache Nation, which in 1934 under the Indian Reorganization Act was federally recognized as a Native American tribe.
Today, the Yavapai-Apache Nation has its own tribal council, focused on business development, education and infrastructure.
And in the past few years, the Nation has started the Yavapai-Apache Transit as a link for the Middle Verde and Clarkdale reservations, as well as transportation for other Verde Valley residents.
At 6 a.m. Saturday, the 2017 Exodus Commemoration Day will begin in Sedona with a blessing at Boynton Canyon.
For more information about the annual Exodus Commemoration Day, contact the Yavapai-Apache Nation's public relations department at 928-567-1006.
-- Follow Bill Helm on Twitter @BillHelm42 and on Facebook at @CampVerdeBugle
More like this story
SUBMIT FEEDBACK
Click Below to: