SR 260 project finally in gear
Construction will begin in early March
By
Bill Helm
|
BillHelm42
Originally Published: February 28, 2017 12:57 p.m.
CAMP VERDE – Folks who have been in Camp Verde the past 20-plus years remember previous attempts to facilitate the widening of SR 260 from I-17 to Thousand Trails Road.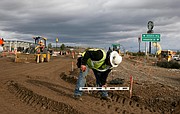 In 2013, Camp Verde, as well as Clarkdale, Cottonwood, Jerome, Sedona, the Yavapai-Apache Nation and Yavapai County were finally able to reached consensus on an access management plan to complete proposed improvements along the nine mile stretch of road that extends from mileposts 209 to 218.
Round one:
Installation of roundabout at Industrial Drive is separate from massive SR 260 widening project
By BILL HELM
CAMP VERDE – Much like metropolitan areas where one city attaches to another without the slightest hint of demarcation, the upcoming road widening project on SR 260 from I-17 to Thousand Trails Road will likely appear to some people as one big run-on sentence.
One Verde Valley Newspapers reader recently said the work has become "a daily maze of how to get from Camp Verde to just about anywhere."
"No visible progress is seen other than the rearranging of the driving lanes every day or so," the reader stated in an email.
Since before the new year began, workers with NGU Contracting from Phoenix have been installing storm drains and catch basins, as well as building curve grades, said Chuck Schwartz, project superintendent for NGU Contracting.
"It's a pretty extensive project," said Ron Long, Public Works Director for the Town of Camp Verde. "There's more to it than meets the eye."
On the surface, the work on SR 260 at Industrial Drive would appear to be part of Arizona Department of Transportation's massive project.
Though the majority of the funding indeed comes from ADOT, the project is actually a separate project, Long said.
At a cost of close to $1.3 million, the Town of Camp Verde contributed $424,350 through Northern Arizona Council of Governments and another $39,900 through the Town's Highway User Revenue Fund, Long also said.
Unforeseen delays will push back the completion date of the Industrial Drive roundabout to July, Schwartz said.
Before the parties agreed to do the roundabout at what Camp Verdeans know as Fast Food Junction, Long would spend time watching motorists navigate their rarely collective way from Homestead Parkway to I-17.
"The road didn't provide good access to business," Long said. "And it's always been an issue in the 10 years I've been here. It's dangerous. If you ever see how people drive around there. In practice, people weren't going to Homestead. They'd [purposely] go the wrong way to go to the other side. It's enough to raise the hair on the back of your neck."
According to Long, placing a roundabout at the junction will eliminate drivers' perceived need to drive illegally to get where they're going.
"We appreciate folks bearing with us," Long said. "But in the long run, people will be happy with the improvement."
Long also said that there will be no detours through the duration of the project – only diversions to one side or the other of SR 260.
With the official handshaking of the seven parties, Arizona Department of Transportation agreed in July 2013 to fund the project that is expected to cost more than $60 million.
Despite a few delays along the way, construction will begin in early March, according to a statement released from ADOT.
ADOT plans to complete the project in two phases: from I-17 to Cherry Creek Drive, and from Cherry Creek Drive to Thousand Trails Road.
The project is expected to take about two years to complete, said Ron Long, Public Works Director for the Town of Camp Verde. Long also said that motorists will encounter diversions along SR 260 much like what is currently in use along the highway at Industrial Drive, the site of a roundabout installation that is "technically not connected" to this widening project.
Roundabouts x7
The road widening project will include construction of seven roundabout intersection at Thousand Trails Road, Coury Drive, a local access point northwest of Cherry Creek Road that will be known as Out of Africa Parkway, a point south east of Out of Africa Parkway that will be known as Aultman Parkway, Cherry Creek Road, Horseshoe Bend Drive and Wilshire Drive.
According to Camp Verde Economic Development Director Steve Ayers, each of the roundabouts will be approximately one mile apart.
Widening
According to Ayers, the road widening will happen on the outside of each current lane, meaning that the "two existing lanes will be open during construction."
"And the other two will be built aside them," Ayers said. "That should minimizer impacts. Most impacts would be related to the construction of the roundabouts themselves," which Long said would be built in halves, meaning one side first, then the other side, to allow for limited obstruction for motorists.
What to expect
According to a press release from ADOT, expect the following for at least the next 18 months:
-Construction will begin in early March,
-Minor impacts are expected in the first phase of construction,
-Crews will begin at the I-17 side of the project at Wilshire Road (milepost 218),
-Excavation will require a temporary construction bypass during the first phase of work,
-Construction activity will occur along the nine-mile corridor, including trucks entering and exiting the roadway
-Use extra caution
-- Follow Bill Helm on Twitter @BillHelm42 and on Facebook at @CampVerdeBugle
More like this story
SUBMIT FEEDBACK
Click Below to: