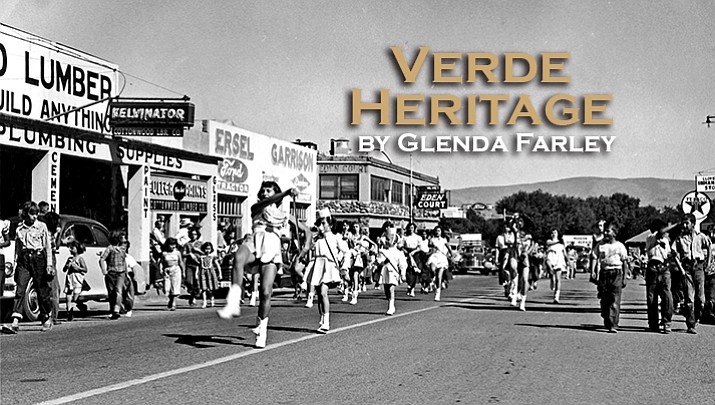 Originally Published: January 4, 2017 8:51 a.m.
"Marcus Jay Lawrence, on the stand in the Yavapai County Superior Court this afternoon declared the estate from which he receives his monthly remittance amounting to an average of $2500 is valued at $700,000, but certainly will not exceed $850,000. These figures were in refutation of the assertion of his wife, Jane Stout Lawrence, in her divorce complaint, to the effect that the estate is valued at between $2,000,000 and $3,000,000."
"The testimony was given at a hearing before Judge Levi S. Udall, of St. Johns, Apache County, to show cause why he should not pay her $1500 a month temporary alimony and advance $5000 for her attorneys' fees and $750 for suit money."
"At this time he testified, under questioning by Lawrence L. Howe, of Phoenix, he is putting up a home at the cost of about $100,000. It is being erected on a 160-acre place he bought in 1936 from William R. Robinson, Jr., situated in the Verde Valley. He also has a ranch he bought from James and Ida Mae (Swift) Minotto at a cost of $70,000 but since then he has given his partner, Bruce Brockett, a quarter interest."
"Howe questioned Lawrence for an hour and a half with the idea of establishing the claimed fact that the defendant is financially able to pay the plaintiff $1500 a month temporary alimony. In that line of questioning he brought out these points."
"They were married in Washington, D.C., in March, 1936, then came to the Soda Springs guest ranch in the Verde operated by Romaine Lowdermilk --- cost $55 a week each. They spent a month, November 15 - December 15, 1936, at Palm Springs, Calif., cost $10 a day for both. Also about $200 while there at night clubs and in gambling."
"They went to Guaymas, in Old Mexico, by drawing room, but Lawrence denied that it cost as much as $25 a day apiece to stay in a hotel there."
"Upon termination of their stay they returned to Palm Springs for 3 days, then drove a Cadillac 12-cylinder car he had bought for her across the country to New Orleans, thence to Washington. Their apartment there cost him $250 a month, with food, meals, and entertainment extra."
"Next they went on an ocean voyage, through the Panama Canal to San Francisco, later to Honolulu in a special suite costing $550 for the trip. For 6 weeks they lived at the Royal Hawaiian Hotel at a cost of $20 a day, including meals, rented a car for trips, then to Los Angeles, to the Indianapolis races on Memorial Day, 1937, Washington again, and next back to Arizona last June, where they have remained since except for a trip east to take a cousin back to Illinois."
"Lawrence bought his wife the $5000 Cadillac. At the time he owned a Chrysler Airflow valued at $2000. Later he turned in the Cadillac and bought his wife a Cord supercharger, costing $3200, but received a $2200 allowance. Recently he ordered his wife a Buick special costing about $1700 but it is not due for delivery until January 20."
"Meanwhile, he bought her a $400 diamond bracelet for a birthday present, a $1700 mink coat, and gave her $200 a month as 'pin' money. Some of that, it was inferred while the lawyers were arguing, was used in paying the premiums on a $20,000 double indemnity life insurance policy."
"After Howe had finished his questioning, Lawrence's lawyer, Joseph H. Morgan, asked the witness if his wife had any money when he married her. He stated he did not know. Further, he said all the property acquired was his own and that he himself had earned no money since the marriage. Brockett manages the ranch."
"Mrs. Lawrence, a blonde who was dressed in a blue outfit with an abbreviated veil suspended from her hat, claimed in her divorce complaint that her husband stayed up all night prowling around the home and importuning her to do the same thing, then he slept most of the day. The specific charge was habitual intemperance. Louis Whitney also appeared in court with Howe as counsel for Mrs. Lawrence."
(Prescott Evening Courier; Tuesday, January 11, 1932; page 2.)
"Tuesday's testimony was for the sole purpose of establishing the fact that Mrs. Lawrence has been accustomed to live well and should be provided with funds to live equally well pending the outcome of the divorce action, and also to show that Lawrence is able to provide for her. After he was on the stand about 2 hours, Mrs. Lawrence was placed in the witness chair."
"During the interrogation, it was brought out that she was a Philadelphia girl, a Quaker by religion. When she was 18 her father died. She had attended private schools up to that time."
"After he father's death, she and her mother went to her mother's old home in Illinois. There daughter Jane attended the University of Illinois for 2 years. One vacation she came out to Soda Springs, where she met Lawrence. There he wooed her and they became engaged. That fall she and her mother went to Washington, D.C., where they took a 'small but nice' apartment for several months near his home. Later they moved to another apartment --- but however modest they always had butler and maid service."
"This line of testimony was to refute his assertion that she and her mother were living in a 'rooming house' when he married the girl."
"He claimed he took her on trips across the country and on 2 ocean voyages because she had never traveled before. She maintained she had traveled, and had been to Canada."
"Mrs. Lawrence said her state of health was good and her wardrobe in good condition."
"Her husband declared he had borrowed $110,000 from his trust fund with which to build his new home, consequently he was unable to provide his wife anything like $1500 a month as temporary alimony because a considerable portion of his remittance was needed to retire the debt for the home. Their present living expenses in a remodeled building intended ultimately for servants, ran around $750 a month but he expected them to be $1500 a month when they moved into their new home."
"Mrs. Lawrence and her mother are living in the Hotel Westward Ho in Phoenix, at a cost of $10 a day for both, but the mother was paying her own expenses."
"It is Lawrence's position that all the property he has in this county is his separate property."
"ALIMONY IS SET AT $400 A MONTH: Temporary alimony of $400 a month, dating from January 1, was awarded late Tuesday afternoon by Judge Levi S. Udall, of St. Johns, presiding in the Yavapai County Superior Court, to Mrs. Jane (Stout) Lawrence pending the outcome of her divorce action against the wealthy Marcus Jay Lawrence, who is putting up a $100,000 home on his ranch in the Verde Valley. She had asked for $1500 a month temporary alimony."
"Judge Udall also awarded her $1000 for attorneys' fees in addition to $1000 which her husband already has given her for that purpose. Her petition asked for $5000 for that purpose. The court also specified $600 as sufficient suit money instead of the $750 asked."
"Lawrence informed the court, through his attorney Joseph H. Morgan, that he would pay the temporary alimony at once but wished to be given 10 days before paying the other $1600."
"Both sides indicated they would like to see the case come to an early trial but no time was set."
"Between now and then, one of Mrs. Lawrence's attorneys, Lawrence L. Howe and Louis B. Whitney, of Phoenix, will go to Washington, D.C., to determine the extent of the estate left Lawrence by his father 7 years ago. The defendant said on the stand it was around $700,000 but might be as much as $850,000. Mrs. Lawrence, in her divorce complaint, alleges it is between $2,000,000 and $3,000,000. He also testified the monthly remittances he receives for the estate average $2500 instead of the $5000 she claimed."
(Prescott Evening Courier; Wednesday, January 12, 1938; page 3.)
"In an answer to the divorce complaint filed by Mrs. Jane (Stout) Lawrence, Marcus Jay Lawrence, through his attorneys, O'Sullivan & Morgan, late Friday afternoon, says that, 'the plaintiff and defendant were not at the time of the filing of the action, or at the present time, living separate and apart. For aught that appears in the complaint, plaintiff and defendant may have been, and it will be presumed in the absence of an allegation to the contrary, that they were living ... together and at and since the filing of said complaint.'"
(Prescott Evening Courier; Saturday, January 15, 1938; page 2.)