Editorial: Answering the flood of questions about 'Stupid Motorist Law'
Originally Published: January 10, 2017 2:23 p.m.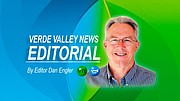 Questions about the applicability of Arizona's "Stupid Motorist Law" has been the rage on the Verde Independent and Camp Verde Bugle Facebook pages this past week.
Friday marked the second time in recent weeks that drivers have dared to cross flooded roads from the now high waters of Beaver Creek.
In both instances, the drivers should not have taken the dare.
The prevailing opinion among Facebook postings is that – the put it kindly – the drivers of these two vehicles have been sadly lacking in common sense.
Amazingly, some have defended the actions of the drivers. The most extreme of these Facebook opinions is that the driver was "mastering the water ways of his town. In Camp Verde, if there's a will there's a way and our country folk are always willing to try anything new."
The problem with this mentality is that these drivers typically end up climbing to the roof of their vehicle begging for someone to come save them. In the process, their vehicle is totaled, and all its contents lost.
All of which has repeatedly prompted questions about the enforcement of Arizona's "Stupid Motorist Law."
The answer, courtesy of Yavapai County Sheriff's Office Media Relations Coordinator Dwight D'Evelyn, is that in most instances the law does not apply. As D'Evelyn explained, the "Stupid Motorist Law" cannot be enforced unless the roadway is barricaded.
Only then is a driver "liable for the expenses of any emergency response," according to Arizona law.
No doubt, that law lacks the same common sense as do the drivers who attempt to make such high-water crossings. Flood waters come fast and furious in Arizona, often faster than emergency responders can strategically place barricades. Besides, most people do not need barricades to know they should not drive across a flooded road?
It bears emphasis that these lapses in driver judgment are rather costly to the taxpayer. Friday's incident, for example, saw five different emergency response agencies respond, including the Arizona Department of Public Safety Ranger helicopter. It wasn't overkill. Heavy runoff from the mountains made for treacherous water conditions that carried the vehicle about 100 yards downstream from the crossing before becoming lodged between some small trees. The three occupants had scrambled to the roof of their vehicle before being retrieved by members of a Swift Water Rescue Team.
Folks, it simply is not worth it to try and traverse these roadways during floods. You are not going to succeed. As for "mastering the water ways" of your town, there is good reason they are called water ways.
The water is the master.
More like this story
SUBMIT FEEDBACK
Click Below to: