Fighting opioid abuse in Arizona
Expert: State proactive, but has more work to do
By Michelle Chance; Cronkite News
Originally Published: January 12, 2017 3:13 p.m.
PHOENIX – Arizona Gov. Doug Ducey's office calls it an "all-hands-on-deck strategy."
His office has touted its work in creating executive orders, signing new laws and launching partnerships to try to attack the state's problem with prescription pain medication abuse.
Do you suspect someone is struggling with addiction? Here are some tips
The key to stopping opioid addiction is recognizing the potential abuse before it takes hold. But, there are treatment programs for any stage of addiction.
Here are resources to identify abuse and seek assistance:
Warning Signs
Debbie Moak, director of the Arizona Governor's Office of Youth, Faith and Family, told Cronkite News in October that "parents are in the No. 1 position to influence whether their sons and daughters will use drugs or not use drugs." Unexplained changes in the behavior could point to adolescent substance abuse, according to the National Institute on Drug Abuse. Adolescents who "act withdrawn, frequently tired or depressed, or hostile" could be developing a problem. According to NIDA, behavior to be mindful of includes:
● A change in peer group
● Carelessness with grooming
● Decline in academic performance
● Missing classes or skipping school
● Loss of interest in favorite activities
● Trouble in school or with the law
● Changes in eating or sleeping habits
● Deteriorating relationships with family members and friends.
NIDA recommends that parents seek help from professionals if their child is abusing drugs. The first step could be taking your child to the doctor for screening – for drugs or other health conditions. The agency also suggests contacting addiction specialists such as the American Society of Addiction Medicine or the American Academy of Child & Adolescent Psychiatry, each of which has a physician search feature on its website.
Finding Help
The Governor's Office of Youth, Faith and Family has several programs, including the Angel Initiative, which allows drug users "to walk into a police precinct, turn in their drugs and request treatment without fear of prosecution," according to the state's website.
The agency also provides a roadmap for finding treatment plans and centers. The website will walk you through the questions to ask when searching for treatment options, such as whether a program accepts insurance, whether the patient is motivated for treatment and what types of treatment programs are utilized.
Researchers at Arizona State University's Center for Applied Behavioral Health Policy have developed a guide for finding medication-assisted treatment in Arizona. The guide lists physicians and providers – and their contact information – throughout the state.
The Substance Abuse and Mental Health Services Administration provides a wealth of information on how to spot drug abuse, how to approach a patient and where to find help.
● A guide for what teachers need to know and look for if they suspect a student might be abusing prescription medication.
● A guide for patients and family members on spotting and preventing overdoses.
● A Opioid Overdose Prevention Toolkit for community members.
● Information on medication-assisted treatment programs that combine behavior therapy with medications such as buprenorphine.
● It also includes links to news stories, such as How to Stage an Intervention.
You might say the efforts, combined with those by both the private and public sectors, have led to some success over the years: Arizona now ranks 15th in the nation for all overdose deaths. That's a drop from sixth in 2010, said a spokesman for the Arizona Department of Health Services. (Opioids – primarily prescription pain relievers and heroin – are the main driver of overdose deaths, according to the Centers for Disease Control and Prevention.)
But that improvement in rank is slightly misleading. Sheila Sjolander, the assistant director of health prevention services at the health department, said the ranking doesn't necessarily mean overdose deaths are decreasing.
"It's more of a matter of, we are holding our own compared to other states whose rates have significantly worsened compared to ours," Sjolander said.
So local and state officials continue to fight.
Sherry Green, the president of the Iowa-based nonprofit National Alliance for Model State Drug Laws, which drafts model drug policies and laws, said Arizona has always been "very proactive in taking a lead" in addressing the opioid addiction problem.
Green cited several recent moves by the state to address opioid abuse: Laws that attempt to prevent "doctor shopping" and loosen restrictions on administering the anti-overdose drug naloxone. The state also issued guidelines for doctors when prescribing drugs for acute and chronic pain before the CDC released its guidelines.
State officials have worked on a variety of initiatives as well. These include developing a toolkit to help educate local communities, mapping permanent prescription drug drop-off locations for the public and creating a free training course for doctors on how to prescribe opioids. Ducey also announced a Substance Abuse Task Force in March 2016.
However, Green said that like most other states, Arizona has more work to do.
"Here you have a state like Arizona who has, from very early on, tried to address this problem, and it is still in a position where the state feels it has to improve," Green said.
State officials are reluctant to implement some programs. For example, some states require doctors to take at least some pain management, controlled substance prescribing or substance abuse training as part of their continuing education. Arizona isn't one of them.
An official with the Arizona Board of Osteopathic Examiners said the board has never discussed it, and officials with the Arizona Medical Board, which licenses physicians, did not return calls seeking comment.
Arizona also does not have a dedicated funding stream to fight the epidemic like some other states.
For example, New York officials have dedicated nearly $200 million toward prevention and recovery efforts for heroin and opioid addiction. Massachusetts officials have increased opioid-related annual spending by $40 million since November 2015, according to the state's website
State, county and local agencies get funding from a multitude of sources, and there's no comprehensive accounting of all the funding streams in Arizona, said Debbie Moak, director of the Governor's Office of Youth, Faith and Family and co-chair of the state's Substance Abuse Task Force.
But that's something the task force hopes to tackle.
"We must absolutely first look to the funding resources we already receive and make sure we're doing the best job with those dollars before we just simply ask for more dollars, and I think we're still in the process of doing that," she said.
Rep. Kate Brophy McGee, R-Phoenix, said she's looking to the governor's State of the State address for "any indication" whether Ducey wants to boost funding for opioid resources. Brophy McGee, who also sits on the task force, said the group will likely make recommendations once they understand the scope of the problem and how to best attack it.
"When you start to compute the costs, the societal costs and the cost to private citizens and to the government … it's even more enormous than we know," she said. "If you can put that into a budget picture, and say 'If we can treat this and attack this, we can actually save money.'"
"It's such an enormous set of problems. It's in our best interest to solve it. Attack it. Fund it. Make sure we get the resources in place. It's just such a pernicious societal ill."
Haley Coles, executive director for Sonoran Prevention Works, said her Phoenix organization has worked to fill in some of the gaps by offering workshops and training for harm reduction. Although her group is collaborating with the state, she said she sees funding needs in the community.
"There doesn't seem to be a lot of support for outreach programs and even training of staff in terms of harm reduction (and) outreach tactics," she said. "There's not very much money available, and I think it's not a priority."
Though many experts want to see officials do more, some critics lament the government's involvement in the opioid battle.
Robert Cravens, a Tucson ear, nose and throat surgeon, said he opposes new state legislation that will require doctors to check the state's prescription monitoring database before prescribing opioids.
"It is over-regulation. I think it is overreaction," said Cravens, who has been a practicing doctor for 25 years.
Cravens said the requirement consumes unnecessary time with patients, especially those he knows well. He also opposes a new executive order that limits some new opioid prescriptions to only seven days, saying it slows down the efficiency of doctors' practices.
Additionally, Cravens said the state's involvement in medicine is misplaced when it comes to addressing the opioid epidemic. In his opinion, the majority of the problem lies with the illicit heroin trade from countries like India and China – and not with doctors prescribing painkillers.
"None of us want to see opioid deaths, but I think that the thought that medicine and prescription of opioids is contributing dramatically to that problem is reactive, a whipsaw," he said.
Here are more details about some recent programs state and local officials have implemented to fight the opioid epidemic and others that experts suggest the state embrace:
Angel Initiative
In October, Phoenix police launched a pilot program at a precinct in Maryvale to provide support for addicts.
Cmdr. Sean Connolly announced the program at the state Capitol during a Red Ribbon Week event, an annual drug abuse awareness campaign.
The Angel Initiative allows addicts to enter the Maryvale/Estrella Precinct and turn over their drugs without prosecution, Connolly said. From there, volunteers will escort them to treatment centers.
However, there are limitations. Those seeking help from the program must be nonviolent and have no history of sex offenses.
The goal: Treat the drug abuse as an addiction, not a crime. The department has partnered with volunteers and treatment centers to help the addicts.
A Phoenix police spokesman said on Wednesday that more than 70 people have taken advantage of the program, including those who accessed help from outside the precinct.
Many departments modeled their programs after the Gloucester, Massachusetts, police department started its program in 2015. More than 390 addicts have turned themselves in, according to an article in The New York Times.
Moak said about 30 other states have adopted similar programs, and other local departments in Arizona may look into implementing it as well.
"We chose Maryvale/Estrella Precinct because there are a lot of needs in that community," Moak said. "They are 20 percent of Phoenix's residents, but have a lot of challenges. We wanted to bring them supports."
Prescription control
Ducey signed an executive order in October that attempts to fight addiction by limiting initial fills of controlled substances to seven days. The order excludes those with cancer and chronic pain.
Moak said people who go through minor procedures that only require painkillers for a few days often end up with prescriptions for 30 or 60 days.
Moak said these excessive fills can cause people to become addicted to opioids because they do not understand how powerful the substances are.
Chandler resident Angie Geren said she became addicted to her opioid pain medication after going through surgery – even though she took them as prescribed by her doctor for six months.
"My body was fully and completely dependent on them and my brain is completely and fully triggered by them," Geren said. "That was six years ago, and to this day, if I see a prescription pill bottle, my first thought is, 'I should take one of those.'"
Geren said she trusted her doctor and received no information about the addictiveness of the drugs.
"I was completely and totally addicted," she said. "I had no clue. I had no clue."
Ducey's order only affects state employees and those on the state Medicaid program. However, Moak said the governor's administration plans to encourage private insurers to take similar action.
Good Samaritan Law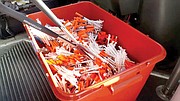 One piece of legislation the state has not implemented that the National Alliance for Model State Drug Laws organization recommends is a Good Samaritan Law. Experts said that many times, the people near an overdose victim could help them, but are often drug users themselves and feel reluctant to call law enforcement for help.
Green said a law like this would provide immunity against drug possession for those who call law enforcement to prevent an overdose.
However, critics say the law could enable drug addicts to keep using.
Although the law is controversial, Green said it could save many lives.
"It doesn't really do a lot of good if we have people administering naloxone and then taking off and not helping get somebody assistance because they are afraid they are going to get arrested and prosecuted for drug possession," Green said.
Needle exchange
Heroin addiction often goes hand in hand with prescription painkiller abuse. Those addicted to prescription pills are 40 times more likely to be addicted to heroin, according to the Arizona Department of Health Services.
One of the most common ways to use heroin is to inject it.
Sonoran Prevention Works advocates for harm-reduction strategies such as syringe access programs, which provide free syringes to reduce the spread of HIV and Hepatitis C.
Thirty-five states have syringe access programs, according to the National American Syringe Exchange Network's website.
Many of these programs are at least partially funded by city, county or state government, Coles said.
In Arizona, only one partially government-funded program exists.
Miguel Soto, the HIV program coordinator for the Pima County Health Department in Tucson, said the county partially funds a syringe exchange program. The rest of the funds are donated by the community and volunteers, Soto said.
Soto said the service also provides a resource for people who want to seek treatment.
However, not all lawmakers are convinced.
Arizona Sen. John Kavanagh, R-Fountain Hills, said he would not support state funding for syringe access programs, adding that such programs enable drug users to continue their addiction.
"Today you give a syringe, tomorrow you legalize heroin," he said.
Moak indicated that – although the state has not determined its funding requests – it's possible more money goes toward prevention efforts.
"If we need more prevention dollars, then I'm not afraid to go back and ask for them," she said. "We need to take care of people and get them into long care recovery, but … we've got to double down on prevention and stem the flow of people coming into the system."
She said she's encouraged by the efforts: "I know we're not where we want to be. But I like where we're trending."
Cronkite News reporters Ally Carr and Anthony Marroquin contributed to this article.
SUBMIT FEEDBACK
Click Below to:
More like this story