Living the dream: Verde Valley's youth learn about Dr. Martin Luther King Jr.
By
Bill Helm
|
BillHelm42
Originally Published: January 14, 2017 1:45 p.m.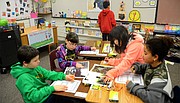 VERDE VALLEY – Many people probably don't realize that Dr. Martin Luther King Jr.'s "I Have a Dream" speech contained the phrase "I have a dream" eight times.
He couldn't say it just one time. King's dream was for equality, not just racial but equality of all people.
More than 50 years after delivering that speech, Dr. King's dream lives on all over the country, from the biggest of the big cities to the smallest of the small towns and unincorporated communities.
Over the next few days, a few of the Verde Valley's education communities are observing Martin Luther King Jr. Day.
At Mingus Union High School, English teacher Andrea Meyer's sophomores are finishing their study of Nelson Mandela's Nobel Acceptance Lecture, "which alludes to King's own Nobel speech and King's legacy," Meyer said.
Coinciding with the sophomores' study of apartheid, South African-born and Sedona resident Philippa Atterbury is on schedule to be guest speaker at Mingus Union.
"Philippa will be talking about what it was like to grow up in the privileged white European class in the 1960s through 1980s, what it was like to vote for Mandela as an adult ex-pat in the US, and what changes she has seen as she revisits South Africa each year to see family," Meyer said. "She realized that she was distinctly the advantaged one – and how good it felt to vote for Nelson Mandela."
Friday at Clarkdale-Jerome School, third graders read 'Happy Birthday, Martin Luther King' at 9:30 a.m. Students then discussed King's dream and also read poetry about MLK. 
"We discuss him and his beliefs every year," said Clarkdale-Jerome third grade teacher Gigi Trujillo. "We talk about equality and how we're all the same except maybe our skin color. Prejudice is learned; we're not born that way. I also feel that it can be unlearned."
At Cottonwood Elementary School, Friday morning was an opportunity for Scott Rustad's fifth grade class to use their laptops to research 20 different things about Dr. Martin Luther King Jr. And third grade Stacy Bray's class drew a portrait of Dr. King while using a grid.
In Camp Verde, 11-year-old Chandler Plante has held Martin Luther King Jr. Day marches down Main Street. Monday's march and celebration marks the sixth consecutive celebration in Camp Verde.
"Dr. Martin Luther King, Jr is one of [Chandler's] heroes and each year with the [town] council's permission, he plans and organizes the event," said Janice Plante, Chandler's mother.
This year's march will begin at the downtown gazebo on Main Street at 10 a.m. Following the march, the celebration will move to the Town of Camp Verde Community Center Gym for an opening prayer by Pastor Jerry Trewern, with local law enforcement honored with a moment of silence. There will also be presentations by the Yavapai-Apache Nation's Honor Guard, as well as the singing of the National Anthem, a welcome address by Camp Verde Mayor Charlie German and the announcement of this year's essay contest winner.
This year's keynote speaker is former Channel 12 helicopter pilot Jerry Foster.
Chandler's march and celebration will also include a benefit fundraiser with 50/50 raffle tickets and $10 event t-shirts, with proceeds going to local organization Verde Valley Children Living in Tragedy.
This event is scheduled from 10 a.m. until noon. Most years, approximately 300 people attend the event. This year, Chandler said he looks forward to "at least 500" people to show up.
-- Follow Bill Helm on Twitter @BillHelm42 and on Facebook at @CampVerdeBugle
More like this story
SUBMIT FEEDBACK
Click Below to: