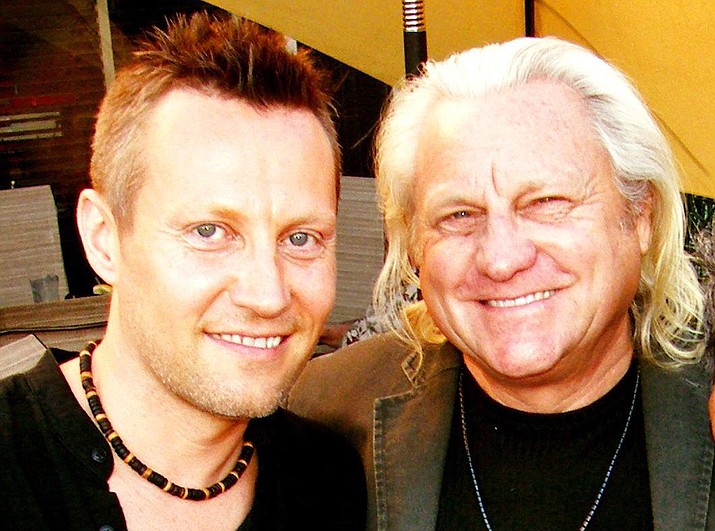 ---
---
August West rocks the night playing favorite songs by The Beatles, The Stones, Van Morrison, America, Simon and Garfunkel, Tom Petty and many more at Vino Di Sedona on Wednesday January 18, 7-10 p.m. August is best known for performing with his Grateful Dead Cover Band, American Beauty.
Spend Thursday night at Vino Di Sedona listening to amazing music by Tim Young. Before moving to Sedona, Tim had a 30-year music career in NYC where he performed hundreds of shows and released three CD's. He was raised in the heyday of AM top forty radio and the Folk music boom, his inspirations are everyone from Bob Dylan, Joan Baez and Arlo Guthrie to The Beatles, Sex Pistols, Ramones, Cars and Nirvana.
Instrumentally, Tim is a stand out rhythm guitarist, both acoustic and electric. He has composed music and songs for TV and several independent films. Tim's lyrics are inspired by personal relationships, politics, the bar scene, and the music business. Tim's set is January 19, 7-10 PM.
A fun time is sure to be had at Vino Di Sedona with music by PK Gregory on Friday January 20, 7-10 PM. He is described as "Johnny Cash meets John Prine, with a smattering of Townes Van Zandt thrown in." PK Gregory brings his one-man trio back to Vino di Sedona for another round of the honkabilly blues. With a combination of country-blues fingerstyle guitar, bass, harp, vocals, foot percussion, and a wickedly iconoclastic songwriting bent, it's sure to get the children dancing (albeit somewhat inappropriately.)
Vino Di Sedona's Saturday January 21st Wine Tasting is accompanied by music by Paolo, 3:30-6 p.m. Paolo is an accomplished vocalist/pianist known for putting a delicious twist of romance back into jazz. His audience loves to hear his new arrangements of the great romantic songs of the past. His musical style is a modern blend of breathy vocals, rich harmonies and soulful rhythms. His "best musical friend" is his keyboard, and his "favorite song" is the one he is singing each moment.
Following Paolo is Sedona sensations Miller and Miller; father and son duo Robin and Eric Miller take the spot-light at Vino Di Sedona on Saturday night, 7-10 PM. Together they play as an acoustic guitar duo performing their original music along with well-known songs by artists such as Sting.
Robin Miller is adored for his gutsy blues and power rock guitar playing, as well as his singing and his prolific songwriting, honed by over forty years of professional experience. His love of playing and singing is contagious. He's a diverse musician who incorporates many styles, but his fiery guitar solos, and his rich and bluesy rock vocals always get the crowd feeling energized.
Eric began seriously playing guitar at the age of 12, inspired by all the great blues and rock music of the Detroit area. Coming from a family of musicians and artists, Eric started playing professionally when he was sixteen.
He was soon performing at some of the largest and most impressive venues of the Detroit Metropolitan area. With a desire for new experiences and exposure to different sounds and music, Eric left Detroit in the mid 90's to travel to Europe where he spent months busking on the streets of France, Italy, England, Ireland, and eventually Spain where he developed a love for flamenco.

Local favorite Rick Busbea, performs Sunday January 22, 6-9 PM. Rick puts on a high energy show playing a lot of familiar tunes by the likes of Kenny Chesney, Jimmy Buffett and Jim Croce. If you are not at Vino Di Sedona on Sunday nights, you are missing out!
You can enjoy live music seven days a week at Vino Di Sedona, including Monday! Music Monday on January 23 features music by Robin Bryer. Robin is a Sedona local who loves making music with his friends! Join in on the fun 6-9 PM.
Join Sedona's best Open Mic night, every Tuesday, 6-10 p.m. at Vino Di Sedona. This tremendously fun event is hosted by Dan Rice who is one of Sedona's favorite performers.
The Open Mic started just over one year ago and has grown into an event that brings a full house and variety of talented musicians every week. Owner Rebecca Schemmer says, "Tuesday is my favorite night of the week, Dan Rice does an incredible job hosting Open Mic, and everyone has a great time. We have several regulars, such as Vickie Moyer, Dave Rice, Rick Busbea, KB Bren, and Randy J, but we get new musicians weekly as well." Open Mic always offers a night of exceptional music and fun. Musicians and audience members are invited and appreciated!
Vino Di Sedona Fine Wine and Craft Beer, is located at 2575 W SR 89A in West Sedona. For more information or to see the full calendar of events, visit www.VinoDiSedona.com. 928-554-4682