Editorial: Gas tax hike not a popular subject, but clearly necessary
Originally Published: January 17, 2017 1:17 p.m.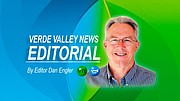 The discussion to raise Arizona's levy on a gallon of gasoline is not going to win Prescott House Republican Noel Campbell many friends.
But outside of an increase in the state gasoline tax, there are no other financing options to address Arizona's road maintenance and expansion needs.
We've seen ample evidence of that in the Verde Valley with the long-debated plan to expand State Route 260 between Cottonwood and Camp Verde to four lanes. Sure, our own inter-Valley political tug-of-wars have slowed the progress of that project, but so too has the issue of finding the money to pay for it.
None of us like to pay more in taxes, whether it's sales, property or gasoline taxes, but it bears emphasis that Arizona's tax on gasoline has not been increased since 1991.
Further, the Arizona levy of about 18-cents per gallon pales in comparison to the national state average of 30.29 cents per gallon. That's in addition to the federal levy of 18.4 cents per gallon.
It's also important to note that in this new era of electric and hybrid vehicles, a hike in the gas tax is really only allowing the state to break even on the inflationary costs of building and maintaining roads. As fuel sources for the cars we drive shift away from gasoline, the state will need to devise new revenue sources for these infrastructure necessities.
In the meantime, a state tax on gasoline is all we have.
As stated above, Rep. Campbell is not going to win many friends by broaching this subject.
But the alternative is a state highway system that is poorly maintained and fails to meet the carrying capacity of the vehicles using them.
Some people call such roads accidents waiting to happen.
Others call them death traps.
SUBMIT FEEDBACK
Click Below to:
More like this story