Editorial: Thorpe's anti-college vote proposal is bad public policy
Originally Published: January 19, 2017 1:14 p.m.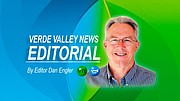 One has to wonder what Dist. 6 Rep. Bob Thorpe is thinking with his current effort to make it difficult, if not impossible, for college-age students to vote.
House Bill 2260 crafted by Rep. Thorpe would make it illegal to use a dormitory address "or other temporary college or university address'' such as an apartment for voter registration purposes.
It bears emphasis that any address for a college student is temporary. At that age, they are highly mobile. They move around. It's all part of the process of growing into adulthood.
Part of that same process involves voting. And the best place to vote is in the community in which you live. There is no better way to become part of a community than by voting on the issues confronting that community.
Coconino County Recorder Patty Hansen said Rep. Thorpe's proposal flies in the face of the law. Hansen points to a 1979 decision by the U.S. Supreme Court relating to a lower court ruling in Texas concerning special treatment of college students when they sought to register to vote.
Further, Secretary of State Michele Reagan is scratching her head over the proposal after spending the last year on campuses throughout Arizona encouraging college students to register to vote.
And as Sen. Steve Farley, the assistant House minority leader said, Thorpe's proposal on student voting sends all the wrong messages. "If they're committed to their college community, committed enough to want to re-register to vote there, then we ought to encourage that,'' said Sen. Farley.
If you buy into Rep. Thorpe's logic, the vote of college students has more legitimacy in the community where their parents live than it does in the community where they currently live.
Some would call that voter fraud.
More like this story
SUBMIT FEEDBACK
Click Below to: