Watch: Trump inauguration events
Originally Published: January 20, 2017 10:05 a.m.
---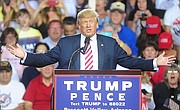 DID YOU KNOW
The first President of the United States, George Washington, delivered the shortest inaugural address at 135 words?
William McKinley's 1901 inauguration was the first one to be filmed?
"I do solemnly swear (or affirm) that I will faithfully execute the office of President of the United States, and will to the best of my ability, preserve, protect and defend the Constitution of the United States."
With those words, President-elect Donald Trump will take the oath of office at noon (10 a.m. Arizona time) on January 20, 2017, to formally become the 45th President of the United States.
Trump's public schedule for the inaugural celebration starts with an afternoon wreath-laying at Arlington National Cemetery. Next, a welcome concert on the steps of Lincoln Memorial ending with fireworks.
Who is performing at the Welcome Celebration?
A two-hour concert, open to the public, will feature country star Toby Keith, soul's Sam Moore and The Piano Guys. Also performing: Lee Greenwood, DJ RaviDrums, 3 Doors Down, and The Frontmen of Country, featuring Tim Rushlow, Larry Stewart and Richie McDonald.
Who is performing at the swearing-in?
Jackie Evancho, a 16-year-old classical/pop singer, will sing the National Anthem at the ceremony. Evancho came in second on America's Got Talent in 2010 and has also sung for President Obama. The Mormon Tabernacle Choir, the Missouri State University Chorale and the United States Marine Band will be also be performing.
For more information about the 58th inaugural ceremonies for Donald J. Trump visit https://www.inaugural.senate.gov/58th-inauguration
* Morning live video feed courtesy of Right Side Broadcasting. Secondary video via U.S. Government White House feed.
More like this story
SUBMIT FEEDBACK
Click Below to: