New Camp Verde subdivision could employ 350 workers
Tierra Verde Builders begin work on Castle Heights subdivision located off Arena Del Loma
By
Bill Helm
|
BillHelm42
Originally Published: January 31, 2017 3:12 p.m.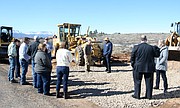 CAMP VERDE – It's been about 12 years since Camp Verde was on the verge of seeing a subdivision of homes built.
Millwood Estates was its name – and 'was' is the appropriate word.
Thanks to the country's economic downturn, the council-approved project never got off the ground. But roads were built, paved – and recently chip sealed.
Without the ceremonial gold spades and matching helmets, Tierra Verde Builders held a groundbreaking ceremony on Jan. 26 as developer John Bassous invited realtors and brokers, Camp Verde Town officials and council members to the site of Castle Heights.
Located on approximately 20.92 acres at the northwest corner of N. Arena Del Loma Road and Montezuma Castle Highway, Castle Heights will one day be the site of 12 custom homes, according to Bassous, owner of Tierra Verde Builders.
"This is not a cookie-cutter subdivision," Bassous says. "Currently we have three homes we're designing to begin building in early spring."
Bassous estimates that it will take "about 350 people" to complete work on Castle Heights, which includes "all trades and their employees, realtors." And the work on this project will produce "about $8 million" to build the dozen homes, each with a minimum square footage of 1,400.
Because of the square footage, Castle Heights may have be able to market to a "broader spectrum of people," says Pete Roulette, owner/broker with Montezuma Realty in Camp Verde.
Homes will be on lots at least 1.61 acres, not to exceed 1.81 acres, Roulette also says.
And the project will be a real boon for the local economy.
"Since 99 percent of who I hire is local, 99 percent stays in the community," Bassous says. "It's the largest revenue-generator in Camp Verde in a long time."
"I appreciate what John is doing with this project," said Camp Verde Town Manager Russ Martin, one of close to two dozen in attendance at the ceremony. "Not only is it a boost for building new residential homes but using as much local workforce."
Work began on the project on Jan. 20 as dirt was leveled on what will become roads in and out of Castle Heights.
"The roads should be completed by the end of March," Bassous says. "Then the first ground should break in April, first one depending on the weather."
Castle Heights will be six homes on two roads each with a cul-de-sac.
"It will be a unique subdivision to Camp Verde," Roulette says. "We are seeing people wanting property with lower maintenance, natural landscaping, with a view of Squaw Peak, Mingus Mountain and Montezuma Castle."
Eager to see more growth in Camp Verde, both residential and commercial, Camp Verde Economic Development Director Steve Ayers says that without rooftops, "you cannot attract businesses and new jobs, nor can you expect to bring in retailers."
-- Follow Bill Helm on Twitter @BillHelm42 and on Facebook at @CampVerdeBugle
More like this story
SUBMIT FEEDBACK
Click Below to: