Cottonwood Clippers start season off strong
Originally Published: July 1, 2017 1:09 p.m.
Before their Fourth of July break, the Cottonwood Clippers Swim Team faced off against each other in the Red and White Meet.
Clippers head coach Gretchen Wesbrock said the intra squad meet was "great."
"It was kinda fun for the swimmers to get to compete with each other," Gretchen Wesbrock said. "We usually take off a week for Fourth of July, so it's kind of a way to do one last hurrah. Some of our meets are far away, so we have meets in Bullhead or Kingman, so that can be kind of hard for families to make it, so it's nice to have something here."
The Red and White Meet featured the Clippers girls and boys swimmers 8U and 9-10s in 25 yard races in the each of the four strokes and 11-12 through 15
plus in 50 yard races in fly, back, breast and free.
At their most recent meet, the Sedona Splash, the Clippers took third in the combined team scores, fourth for girls and third for boys, but racked up the individual wins.
Gunner Tillemans won the boys 15 and over 200-yard individual medley, the 100-yard freestyle, the 100-yard butterfly, the 50y free, the 50y fly and the 200y free. He was first place overall for boys 15-18.
Fletch Fangman won the boys 15 and over 200-yard breaststroke and the 100y breast He was third place overall for boys 15-18.
Grayson Edwards won the boys 9-10 50-yard breaststroke
Rylie Burke won the girls 15 and over 50-yard freestyle and the 200y free. She was second place for girls 15-18.
They also won the mixed 13 and over 400 yard freestyle relay with Fangman, Hannah Arwine, Burke and Tillemans.
Gretchen Wesbrock said the season has been wonderful so far.
"We have a really big team and I think we have seen a lot of, especially with the younger kids, stroke improvement," Gretchen Wesbrock said.
She said lots of the Clippers have impressed her, especially Emma Warner, who is battling thyroid cancer.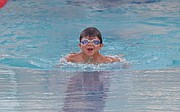 "She just literally three weeks ago went through her third round or radiation, which is crazy," Gretchen Wesbrock said. "She's had two surgeries, three, sorry, one of which they didn't know if she'd be able to rotate her shoulder and yet she came back and yet she came back and was in the water this summer. You would never, you would never know."
Warner was all-state last year as a freshman for Mingus Union and was named an "UP & Comer" by Swimming World Magazine.
"It's pretty phenomenal and I think a lot of times people don't understand what that takes and there's a few swimmers that were beating her now that weren't beating her before but it's because of what she's been through and I just love seeing that work ethic, it's pretty incredible," Gretchen Wesbrock said. "So it makes me a little emotional."
On July 22, the Clippers host the Verde Valley Invitational.
Gretchen Wesbrock said the development of the younger swimmers has also been impressive. Her husband John Wesbrock has taken over as a head coach for the younger kids.
"A lot of them were coming out of swim lessons with a lot of the basics but we kinda had to get them to some more advanced skills and we're seeing that paying off, which has been really great," Gretchen Wesbrock said.
The Clippers had a meet on Saturday at Prescott Valley but the results were not available at press time.
Gretchen Wesbrock said the biggest surprises have come from their "B" team, which her husband and Kyla Furey have been coaching.
"Seeing them conquer things like flip turns or you know watching them do the right under water or do the right stroke because sometimes the right stroke is not as fast as sneaking in some, like on the butterfly doing some flutter kicks or the breaststroke doing some flutter kicks," Gretchen Wesbrock said. "So it's been fun to watch them see 'ok, I've got to do it right even though it might slow me down' and then to watch them improve from there."
SUBMIT FEEDBACK
Click Below to:
More like this story