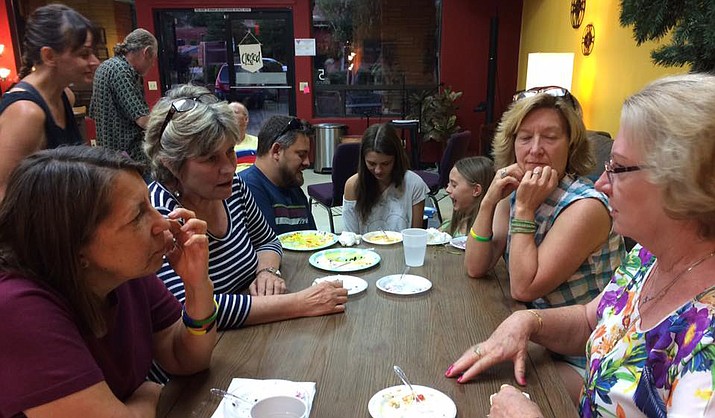 ---
---
New Sedona coffee house The Gathering Place, will be celebrating opening its doors with a Grand Opening Event this July. Everyone is welcome to join in the fun and fellowship with food, live music and art throughout the day, and to discover the heart behind this unique venture.
The Gathering Place, at 1835 W 89A, in Red Cliffs Plaza (next to Pizza Picasso), will be hosting its official grand opening on Saturday July 15, 2017 from 10am until 6pm. We are inviting all - local residents and visitors to join the celebration.

The Gathering Place opened its doors late March of this year – serving free organic coffee and tea, as well as offering complimentary high speed WIFI, various games & activities, and a Saturday evening service to locals and visitors alike. The Grand Opening event is a day aimed at celebrating a successful 3 months of being open, and inviting people to come and get a taste of what The Gathering Place is all about. With a "Judgement Free Zone" sign posted above the door, Lead Pastor Laura Aronson invites all to "check us out! – We are really excited to see The Gathering Place be a bridge to many in our community! We are truly about building relationships, and it really is about a place where people can enter and feel the love of God through the love of our volunteers".

At the Grand Opening, there will be free coffee and tea of course, as well as various cold drinks, snacks and desserts throughout the day, along with a BBQ cookout between 12Noon and 2pm. Guests are also invited to enjoy a variety of live music all day, as well as a free raffle, painting, and storytelling. There is no charge to attend this event and guests are invited to come and join in anytime between 10am and 6pm; or stay for the whole day! This day will also mark the kick off of their local food drive – donations of canned and nonperishable foods can be brought to The Gathering Place, will be collected and taken to local food banks.
According to the instigators behind the operation: "The Gathering Place is a more than just a coffee house with complimentary, local, organic coffee and tea. We aim to be a refuge from a stressful day at work, from trouble with relationships or financial hardships, and a place to gather with friends to celebrate joyful times too. Perhaps you want to sit and read a book alone, or get a group together and play one of our board games. At The Gathering Place we seek to encourage and build others up. Whether that's through a good chat, a friendly game of pool or just a listening ear, our volunteers are trained, first and foremost to love and listen, and of course to serve a great cup of coffee! The Gathering Place hopes you will enjoy visiting us in our contemporary, yet cozy, coffee house and that by the time you leave, you'll feel like a member of the family. We offer a variety of events, from small group Bible studies to local outreach, painting and crafts classes and a Saturday evening service. The best part, it's all completely free of charge, because we believe in giving back and serving our community well."
One volunteer at the Gathering Place said, "We are so excited to offer this unique service to the community, where people can come and feel at home, with no judgment, just love and compassion. Where people from all walks can come – whether a long-term resident, a visitor, a retiree coming for the summer, or a high school student looking for a safe place to hang out. We just want people to feel the genuine love of Christ as they walk through the door.
The Gathering Place is an outreach of Christ Center Wesleyan Church and is a 501c3. It is located on 1835 State Route 89A (Unit 5), Sedona, AZ, 86336 and is open 10–4 Tuesdays - Friday and 10–8 Saturdays, with various scheduled events in the evenings. Check us out by coming in, calling, email or online.

For more information contact: thegathering.christcenter@gmail.com or call (928) 554-4753
You can also visit the website www.thegpsedona.com.