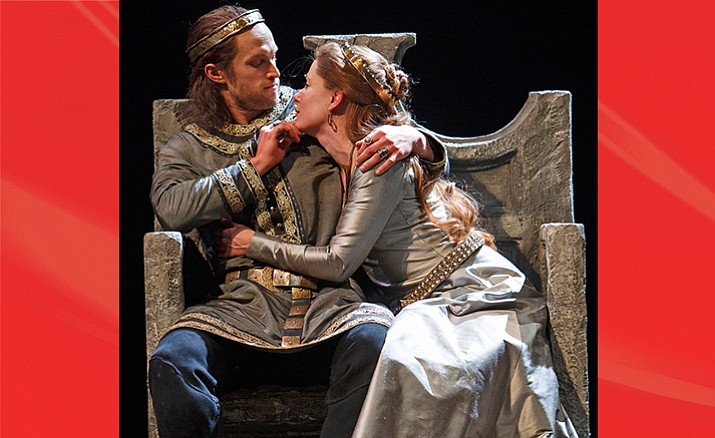 ---
---
The Stratford Festival's renowned new production of "Macbeth" makes its Sedona big-screen debut on Sunday, July 16. The Sedona International Film Festival hosts the high-definition premiere from its home in Canada's prestigious festival. There will be one show at 4 p.m. at the festival's Mary D. Fisher Theatre.
All hail Macbeth! Join us in cinemas nationwide and watch Macbeth claw his way to power in the stark world of the 11th century.
Returning from victory on the battlefield where they have helped crush a rebellion against King Duncan of Scotland, the warriors Macbeth and Banquo are accosted by three mysterious women. These weird sisters greet Macbeth as Thane of Cawdor — a title belonging to one of the vanquished rebels — and predict he will subsequently become king.
When Duncan quickly rewards Macbeth with the executed Cawdor's title, Macbeth — with the encouragement of his ambitious wife — begins to contemplate fulfilling the second part of the sisters' prophecy by taking his destiny into his own murderous hands.
Starring Ian Lake in "a galvanizing performance as an unusually young and sexually magnetic Macbeth" (New York Times), this is a production that will haunt your dreams and leave you tingling.
"The most truly satisfying large scale 'Macbeth' I've ever seen." — Globe and Mail
"Macbeth" from the Stratford Festival will be shown at the Mary D. Fisher Theatre on Sunday, July 16 at 4:00 p.m.
Tickets are $15, or $12.50 for Film Festival members.
Tickets are available in advance at the Sedona International Film Festival office or by calling 928-282-1177.
Both the theatre and film festival office are located at 2030 W. Hwy. 89A, in West Sedona. For more information, visit: www.SedonaFilmFestival.org.