Mingus football returns from break, faces 6A school
Originally Published: July 15, 2017 1:09 p.m.
Mingus Union football returned from their mid summer break and faced off against Cesar Chavez and Sedona in 7-on-7 play.
The 7-on-7 games weren't originally on the Marauders' summer schedule but Cesar Chavez was headed to their summer camp in Flagstaff and asked about playing and Sedona, a fixture at Mingus' 7-on-7 games, joined in.
The games came after Mingus Union took a week off after a bust May and June.
Mingus Union head coach Bob Young said they were a little rusty but that they continue to get better.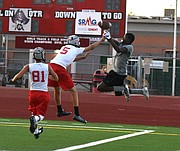 "It's hard because we're mixing up older guys, younger guys; older guys look good," Young said. "We took a week off so we're a little rusty running patterns, even just taking one week off we're a little out of shape. So we're going to get back into it now but we're getting better, we're progressing."
Cesar Chavez is a 6A school from Phoenix. The Champions went 6-5 last year but 5-0 in the Metro Region.
Mingus Union senior Martin Soria said the Marauders are a little rusty but overall they were ready to go when the Champions and Scorpions came to town.
"I think it's hard to take a week off and then come back and expect to be in the same shape but I feel like our practices have been better since we got back coach Young told us that we had a pretty good practice the other day and that's the day we got back," said Mingus Union senior Marcos Valenzuela. "So if we just keep that up I think we'll be alright. Like it doesn't matter if we have a break or not, I think we'll be alright if we just keep on having good practices."
Young said it was nice to get some new competition and ones from a higher conference. Mainly Mingus has played regional teams in 7-on-7s at home.
"They've got good skill guys," Young said. "You get tired of seeing the same people. When we go to California in a couple weeks, we'll see a bunch of new teams."
The Marauders have practice and then host the Mingus Youth Football Camp before heading to a camp in California.
"The competition level hasn't really mattered for us all summer because we've played big schools," Valenzuela said. "I don't think it really matters what school we play."
Mingus Union's first official practice is July 31, then they have a 4-way scrimmage at home on August 16 and then open the season at Higley.
"It's a been a while since we had 7-on-7 but came ready to play," Soria said. "We didn't know who was gonna come out to play but once we saw our competition we were ready."
Right before the break Young voiced his concerns about the Marauders' back ups not doing well but that may be changing.
"I think our second team is finally starting to step it up," Valenzuela said. "Days before the break coach Young told us that we're going to struggle if our second team isn't gonna step up but they've been stepping up and if they keep that up we'll be alright."
Senior retreat coming up
Mingus Union's annual senior retreat is coming up, but with a couple tweaks.
In a couple weeks the Marauders will head to Mogollon Rim north of Payson.
The retreat was originally scheduled for this weekend but fire restrictions led to a postponement.
"That's something we've been doing for darn near 30 years and it's a leadership thing more than anything else," Young said. "We expect our seniors, since they've been in the program, wee expect them to be the leaders so we just spend a weekend trying to do some leadership activities, bonding, kinda get everybody on the same page with goals. It really helps cement what we gotta get done through out the course of the season."
Valenzuela said the retreat is like a "big check-point" for the seniors as they become team leaders.
"They come up with the motto for the season and they figure out what they need to do to get better and what they need to do to make the playoffs and all that," Valenzuela said.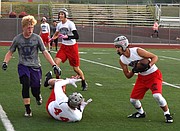 Soria is new to the program, having transferred from Williams but is excited to go.
"I heard it's a blast, we go out, play all kinds of games, we have fun and we turn into a family," Soria said.
This summer Mingus Union has had three or four senior, though now they are up to seven or eight. With the program short on seniors, some juniors will go.
"We're going to take some juniors, this isn't the first time that this has happened," Young said. "Usually we'll have 12-20 seniors with having four or five, we're going to take some juniors to establish themselves as leaders so we'll have about 15 kids going up."
More like this story
SUBMIT FEEDBACK
Click Below to: