Newspaper family donation helps Y.E.S. the Arc purchase residential treatment homes
'Doesn't God take care of things?'
By
Bill Helm
|
BillHelm42
Originally Published: July 15, 2017 1:40 p.m.
Rebecca Young is quite the artist. Clay is her favorite medium. Recently, she made a dog she proudly says does not bark.
Its name is Butter, just like her dog at home.
Cross stitch and needlepoint are also favorite activities for Young.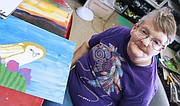 But Young is not just an artist. She loves to swim and loves to play basketball.
Most importantly, Young's favorite person is her mother.
"I love my mother very much," Young says. "She's very sweet and very kind."
In 1974, Penny Spillman and her then-husband were one of five Verde Valley couples with special needs children. Each of the families wanted a program in the area that could help.
A doer if there ever was one, Spillman started Y.E.S. The Arc that year as a school for developmentally disabled children.
Though Young lives with her mother Spillman, she attends Y.E.S. The Arc each day for the activities, and for the friendships she's made the past four decades.
Also, she says, "to wash dishes when they have meals."
Taking care of things
Thanks to a donation by the Don and Luda Soldwedel Charitable Trust, Y.E.S. The Arc has been able to purchase the two residential treatment homes it has rented for the past 20 years.
"Doesn't God take care of things?" says Spillman, executive director for Y.E.S. The Arc.
"Along comes this donation," Spillman says. "It's super, and it came at a time that we really needed it, $300,000 worth of stock. We were so excited. I was brought to tears. Never have we received a donation like this."
With the recent donation from Soldwedel family, who owns the Verde Independent, as well as many other news media outlets in Northern Arizona, Y.E.S. The Arc was also able to acquire two "relatively new" vans, used for taking the program's clients on various trips.
"We're out there thinking about the things we could do to improve the program," says Spillman. "In October, it will be 43 years that we've been providing services. I think it's quite impressive for anybody to stay in business 43 years, let alone a non-profit."
Inclusive
In 1975, the program began serving developmentally disabled adults. Since 1981, when the children's program became a part of the public school system, Y.E.S. The Arc has strictly been a program to serve adults with developmental disabilities.
"It was the right thing to do for the public school system to take over providing services for children," Spillman says. "We were ahead of the times, for inclusion."
With five homes, three for female clients and two for male clients, Y.E.S. The Arc provides job training, activities, access to community events, swimming, summer movie programs, bowling, educational development programs, as well as arts and performing arts for its approximately 60 clients, which includes both its residents and those who participate solely in day programs.
Bonding
Recently, Rebecca Young spent some time one Friday morning in the art room at Y.E.S. The Arc with Edwin Gideon and Lynn Sperry, two of her friends.
Gideon has been attending Y.E.S. The Arc's day programs going on three years now. Says his art is considered "gothic," Gideon is partial to Japanese art, his "perspective on dragons."
"I don't have a lot of color to it," he says. "I sketch it out and see how it does."
Completing "two or three" pieces in a day is pretty typical for Gideon, unless he is painting, then it's more like one or two.
Friday, Sperry proudly showed off a painting she made of an owl. Says she likes to go to Y.E.S. The Arc so she can spend time with "all my friends."
While Young, Gideon and Sperry were working on their art, the resident shredder attacked a box of paper just outside of Spillman's office.
A resident at Y.E.S. The Arc since 1988, Richard Fridley likes to watch the Arizona Diamondbacks and the Arizona Cardinals.
He also likes to use the office shredder, usually four hours at a time in a given day.
For Fridley, a given day is usually every day.
What does he like about shredding?
"It gives me something to do," he says.
All about them
The program's mission statement is connected to its "belief that all people are capable of growth and learning."
Y.E.S. The Arc endeavors to provide training and opportunities "that will maximize growth towards the greatest independence possible for each individual," the mission statement also says.
"My life has been all about them for 43 years," Spillman says.
-- Follow Bill Helm on Twitter @BillHelm42
More like this story
SUBMIT FEEDBACK
Click Below to: