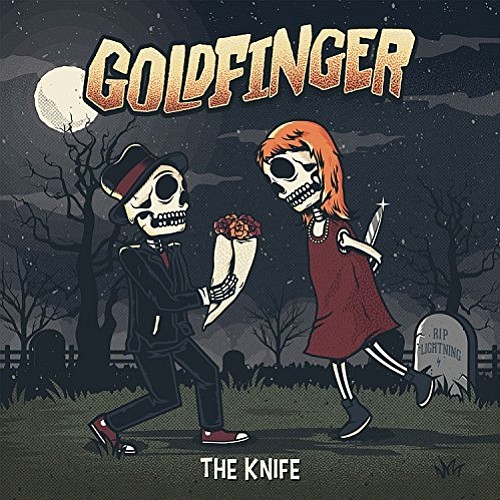 ---
---
Goldfinger – The Knife
Rise Records
With six full-length albums under their belt, Goldfinger has charted in the Billboard Top 200, their self-titled debut album went gold, and have been featured in several films and video games. Nine years after their last release, 2008's "Hello Destiny…", fans will be thrilled that Goldfinger are back with "The Knife" and will be eager to scoop this record on release day.
Tracks include: A Million Miles, Get What I Need, Am I Deaf, Tijuana Sunrise, Put The Knife Away, Don't Let Me Go, Beacon, Who's Laughing Now.
Avey Tare – Eucalyptus
Domino Recording Co.
Eucalyptus is the new studio album written and produced by Animal Collective's Avey Tare. Conceived on Hawaiian mornings, written on a sunlit bedroom afternoon in Los Angeles, practiced in the dark early hours of the California twilight, recommended listening for dawn or dusk. Recorded by Animal Collective's Deakin (Josh Dibb), featuring chamber orchestration arranged by Eyvind Kang, musicians Angel Deradoorian and Jessika Kenney, Eucalyptus is an immersive album length electroacoustic movement through leaves, rocks and dust.
Tracks include: Season High, Melody Unfair, Ms. Secret, Lunch Out of Order Pt. 1, Lunch Out of Order Pt. 2, Jackson 5, DR aw one for J.
In This Moment – Ritual
Roadrunner Records
Ritual is the upcoming sixth studio album by the American heavy metal band In This Moment. This is the band's first album since the departure of drummer Tom Hane, who left the band in 2016 citing creative differences. Hane was replaced by Kent Diimmel shortly afterwards.
Tracks include: Salvation, Oh Lord, Black Wedding, In The Air Tonight.
Foster the People – Sacred Hearts Club
Sacred Hearts Club, is the new album from Foster The People. The album is available digitally and on CD July 21, followed by the vinyl LP on Aug. 11. The album includes the lead single, "Doing It For the Money," and other tracks like "Pay The Man" and "SHC," all three of which were released earlier on the digital EP entitled III. Other new tracks include "Time To Get Closer," "Harden the Paint," "I Love My Friends," and others.
Founded in 2009, Foster the People achieved success with the 2011 release of its debut album Torches, which has sold nearly two million albums and over nine million singles worldwide.
Tracks include: Pay the Man, Doing It for the Money, Sit Next to Me, SHC, I Love My Friends, Orange Dream, Static Space Lover, Lotus Eater, III.