AB Massage Therapy moves to new location
Originally Published: July 18, 2017 12:38 p.m.
COTTONWOOD – AB Massage Therapy recently moved to its new location at Midtown Plaza, located 468 S. Main St., Suite A, in Cottonwood.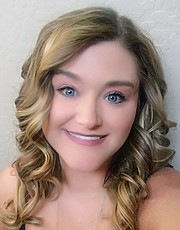 The business opened March 1, 2014. Owner and massage therapist Amber Brandt, LMT, said she chose to locate her business in the Verde Valley because it is her community.
Prior to moving to Cottonwood, Brandt lived in Akron, Ohio. After passing her Ohio State Medical Board exam, she opened a small massage office in a hair and nail salon.

"It was a family owned business and allowed me the opportunity to work with a variety of different clients from all walks of life and I believe made me a better therapist," said Brandt.
Services
AB Massage Therapy offers medical, deep tissue, relaxation, Lomi Lomi, prenatal, myofascial release, and hot stone massage. The business also offers oncology and fibromyalgia massage.
Brandt currently wears "all the hats" of AB Massage Therapy and works full time at Verde Valley Medical Center.
"Currently it is just myself. I would love to have an experienced massage therapist join my office. Perhaps be able to add an acupuncturist or other alternative modalities to the office," she said.
Brandt said her business is unique because she makes massages affordable to all.
"I have clients that make minimum wage and clients that are prominent physicians in the area. I serve them all at the same rate. I want to help all people be able to receive a healing massage no matter what their social class," she said.
Brandt accepts Health Savings Account and Flexible Savings Account for payment of services (where the plan allows).
Future endeavors
Brandt says she hopes to grow out of her current space and open a bigger office as a Health and Wellness Center that can offer more services.
"This would give me and my team the opportunity to help even more people and continue to work with chiropractors, physical therapists, physical therapy assistants, and physicians to assist in increasing their patients' health and wellbeing," she said.
Brandt, who has been a massage therapist for 11 years, says she has a genuine passion for the work that she does.
In time, she wants to be the choice massage office in the Verde Valley.
"I hope that you come in and see my beautiful new office, assess my skills, and in time make that dream of mine a reality," said Brandt.
AB Massage Therapy is open Monday through Saturday. For more information, call 928-235-8821.
More like this story
SUBMIT FEEDBACK
Click Below to: