Old Guys named Volunteers of the Year
Arizona Parks and Recreation Association will recognize Camp Verde group in Phoenix Aug. 9
By
Bill Helm
|
BillHelm42
Originally Published: July 22, 2017 2:54 p.m.
CAMP VERDE – Thousands of labor-intensive hours ago, a handful of friends began what has become one of the community's noblest of projects.
Projects completed by The Old Guys
Restoration of the old 1933 jail and pump house;
Construction of a Ramada structure above the geographical marker that notes the exact center of Arizona;
Assisted the Town of Camp Verde with the park planning and construction of the Sesquicentennial Park;
Power washed several town wooden structures and applied sealant (which took several weeks);
Designed and constructed a Cook Shack at the town Ramada site to be used for special events, supporting both Fort Verde and the Town of Camp Verde;
Poured a concrete slab and built framing for an awning to be used for the new stage for special events;
Assisted in designing the landscape for the new Town library by purchasing more than 100 concrete containers from NAU that weigh more than 300 pounds each;
Installed an irrigation drip system and planted trees at the new Camp Verde Community Library;
Assisted the Town of Camp Verde with the addition of lighting for the community field for special events;
Assisted the Town with volunteer recruitment;
Installed bleachers at Butler Park;
Sanded, repaired and painted the interior of the historic Hance House
They restored the 1933 Jail on Hollamon Street.
Took them more than 2,000 hours to do it.
What did they get for their efforts?
A name that will live forever in Camp Verde's history.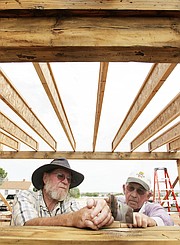 "Wow! Those old guys really know what they're doing," Town of Camp Verde's Mike Dumas said when the volunteers finished that project in 2009.
The Old Guys, as they are now known, now have a new name around town.
Award Winners.
At 5:30 p.m. Wednesday, Aug. 9 at the Sheraton Grand Hotel in Phoenix, the Old Guys will be recognized as the 2017 Volunteers of the Year by the Arizona Parks and Recreation Association.
Nominated by Sheila Stubler, park manager at Fort Verde State Historic Park, The Old Guys have worked on more than a dozen Camp Verde restoration, renovation and fix-it projects, some of which connected to Fort Verde.
Stubler, a Camp Verde resident for more than 13 years, said she nominated The Old Guys not just for their collective commitment to The Fort, but for their commitment to Camp Verde.
"Project after project, I felt it was appropriate to show them some acknowledgment," Stubler says.
Since the 1933 Jail, The Old Guys have worked on more than a dozen other projects, which included the building of a cook shack between the Hollamon Street Ramada and Fort Verde, as well as installing bleachers at Butler Park, renovating the interior, including the kitchen of the Historic Hance House, helping the Town of Camp Verde plan and construct the Sesquicentennial Park, and installing an irrigation drip system and planting trees at the new Camp Verde Community Library.
Says George Dvorak, his volunteering with The Old Guys "fills a need to help our town."
"Not for recognition, but because I really enjoy working with these guys," says Dvorak, who is also an official Fort Verde volunteer. "As for the award, it's really an honor, and I am surprised and appreciative."
Former Camp Verde Vice-Mayor and current Camp Verde Planning and Zoning Commissioner Bruce George says he's "proud and happy to be a part of" The Old Guys.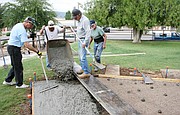 "I had to threaten them," George jokes. "I told them 'you can't do the cook shack unless you let me be a part of The Old Guys."
Relatively new to the group, George still speaks as if The Old Guys are a separate entity.
"They deserve [the recognition]," he says. "Look at how much they've accomplished. They're always doing something."
Stubler states in her nomination letter that The Old Guys have "earned the reputation of being a no-nonsense, get-er-done kind of group."
"The combination of knowledge and expertise within this group is unparalleled to that of most community volunteers, as they have a real sense of hometown pride and want to give back to the community," Stubler states. "They consistently and frequently address situations that require immediate attention and continue to give 100 percent of their efforts. Their enthusiastic outlook and impact on this community is ubiquitous throughout Camp Verde."
In the past few years, three of The Old Guys have passed away. At the Aug. 9 awards dinner, the late Ron Brattain, Dick Rynearson and Bob Burnside will be remembered in memoriam for their contributions. Says Suzy Burnside, her husband Bob "enjoyed every project he did with the guys."
"He never did it for [recognition]," she says. "That's part of giving back. That's what it's all about."
 The Sheraton Grand Hotel is located at 340 N. 3rd St. in Phoenix. The evening's festivities will include a dinner and an award ceremony to recognize accomplishments of various parks and recreation-related organizations.
What happens after the ceremony? More work for The Old Guys.
"We continue to help with landscaping at the library, working with Town Maintenance on Rezzonico Park, and future projects as help is needed," says Ray Floyd, one of the original Old Guys.
"This award is something The Old Guys never looked for," Floyd says. "I think I can speak for all of the guys: we do what we do because we love Camp Verde and the people that live in our little town. It is just our way of giving back. It has been a wonderful part of my life to get the chance to work with the Old Guys and all the town's people.
-- Follow Bill Helm on Twitter @BillHelm42
More like this story
SUBMIT FEEDBACK
Click Below to: