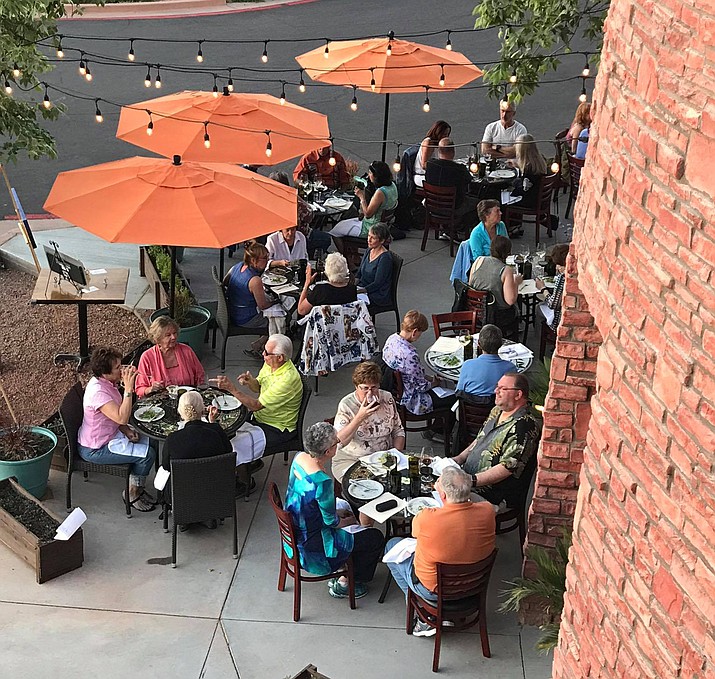 ---
---
John and Nikki Ramagli, owners of J Wine Bistro and the Village Grind, are pleased to announce that J Wine Bistro is now open for brunch and lunch Tuesday through Saturday from 11:00 am to 3:00 pm at The Collective Sedona shopping complex in the Village of Oak Creek. The restaurant is also open for dinner on those nights from 5:00 pm to 9:00 pm. Sunday and Monday evenings are reserved for private wine dinners and special events.
Guests can expect an inviting menu of brunch and lunch favorites including crepes, chicken and waffles, specialty salads, frittatas and rice bowls. Seating is available inside or al fresco on their wrap-around patio featuring beautiful handmade mosaic tables surrounded by custom-built wooden crates filled with colorful flowers and herbs.
Additionally, the restaurant recently announced a new "2 for $25" weekday special on Tuesdays and Wednesdays which includes a salad and any entrée on the menu like their filet mignon with parmesan mashed potatoes, sautéed spinach with a red wine truffle oil reduction for $25. On Thursdays, diners can enjoy a "Brown Bag" wine special for $35. The guest selects red or white wine and the restaurant chooses a premiere bottle of wine that the diner is likely to have never tasted before.
Nikki, a Sedona-native, and her husband, John are committed to providing the freshest of ingredients, sourced locally whenever possible with a focus on exceptional service and a memorable dining experience with menus that change seasonally. In addition to the changes at J Wine Bistro, John and Nikki are also freshening things up at The Village Grind coffee shop. "We've added to our menu offerings with new fresh seasonal salads and hot, grilled paninis along with new $5 prices on all craft beer and wine," said Nikki. "We're so thankful for the support we've received from the local community and hope they'll come try out our new offerings."
About J Wine Bistro
J Wine Bistro is open for brunch, lunch and dinner Tuesday through Saturday from 11:00 am to 2:00 pm and 5:00 pm to 9:00 pm, and offers wine dinners and private events on Sunday and Monday. Reservations can be made on OpenTable.com or by calling (928) 641-6587. The restaurant is located at The Collective Sedona, 7000 AZ-179 Suite E-100, Sedona, AZ 86351. J Wine Bistro offers a locally sourced seasonal menu with exceptional service in a romantic, yet comfortable, atmosphere. www.jwinebistro.com
About The Village Grind
The Village Grind Coffee & Eatery, open daily from 6 am to 3 pm, is located in The Collective Sedona off Highway 179 next to The Hilton and Sedona Golf Resort. The restaurant concept is the first from John Ramagli and his wife, Sedona-native Nicollet Ramagli.
John, who had previously managed valley restaurants such as Cafe Monarch and Marcellino Ristorante, brings his passion for craft cuisine to The Village Grind and is happy to offer a space for locals and visitors to relax with free wifi, live music, an elegant lounge, a spacious outdoor patio and more.