Flight training returns to Verde Valley
'The CTLS is an amazing aircraft to fly'
Originally Published: July 25, 2017 3:31 p.m.
COTTONWOOD – Pam Spoo went over the checklist with certified flight instructor Ed Kalabus Friday morning before they took off in a Light Sport Aircraft recently acquired by Kestrel Aviation Services (KAS).
She is the first to take advantage of KAS's flight training service at the Cottonwood Municipal Airport.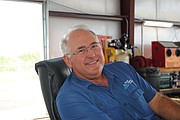 The Verde Valley has been without a flight training facility for years.
"Not only is there now such a training facility, it is much more affordable than traditional flight training has become," said Sid Lloyd, manager of KAS.
The Aircraft
The new aircraft, a Flight Design CTLS, allows KAS to offer flight training and Light Sport Aircraft rental.
It was flown from its previous home in California to Cottonwood by Kalabus.
"The CTLS is an amazing aircraft to fly," said the flight instructor.
"It has a full glass cockpit and flying it is a pleasure. Not only is it easy to fly, it has great performance. On the way home, it flew at 115 knots (132 mph) while burning only 4.5 gallons an hour of premium auto fuel. That's almost 29 mpg. Better than most cars."
The CTLS is manufactured by Flight Design GMBH and imported from Germany by Flight Design USA – which KAS is already an authorized service center for.
"After analyzing the Light Sport Aircraft market where the CTLS has been the market leader for years, and looking for a great flight training platform, the CTLS was the obvious choice for an affordable but highly refined Light Sport Aircraft trainer," said Lloyd.
All CTLS aircraft come standard with an instantly deployable ballistic parachute. In the unlikely event of an emergency, said KAS, the pilot can deploy the rocket-assisted parachute which then lowers the entire aircraft slowly to the ground.
It's light at 800 pounds and much quieter than you would expect.
The aircraft uses a small, quiet, technically advanced Rotax 4-stroke engine with a computer designed three-bladed propeller that significantly reduces noise pollution relative to other traditional training aircraft such as the Cessna 172, said Lloyd.
The Training
The FAA created a new, simpler and more affordable aircraft category called Light Sport Aircraft, according to KAS. Along with the new category of aircraft comes a new type of pilot certificate: Sport Pilot.
A 'certificate' is what the FAA calls a 'license.'
A Sport Pilot certificate requires the applicant to pass an FAA knowledge test, acquire a minimum of 15 hours of dual instruction, accomplish five hours of supervised solo flight, and pass a check ride test. This is half of what is currently required for a full Private Pilot certificate, said Lloyd.
Relative to Private Pilot certification, Sport Pilot certification is limited to:
• Day flight only
• Carrying only one passenger
• No flying in controlled airspace without an instructor's endorsement
• A maximum flight altitude of 10,000 feet above sea level or 2,000 feet above terrain, whichever is greater
No FAA medical certification is needed to obtain a Sport Pilot certificate, but a valid driver's license is required.
The total training cost for a typical Sport Pilot certificate varies depending on how much instruction time is needed to achieve proficiency, but the investment is typically half of what it would take to obtain Private Pilot certification, explained KAS. Those interested in obtaining a Sport Pilot certificate can expect to spend between $4,000 and $6,000.
Lloyd said potential pilots also have the opportunity to continue training and earn their Private Pilot certificate in the CTLS from KAS.
The company uses the award-winning Gleim Aviation Sport Pilot and Private Pilot curriculum, which provides online and self-paced options.
Existing Private Pilots
KAS said existing private pilots can also fly Light Sport Aircraft such as the CTLS as Sport Pilots without a medical certificate if they have not had their last medical revoked by the FAA.
"This opens up aviation to thousands of existing highly trained but 'rusty' pilots," said Lloyd.
The company offers a 5-hour minimum transition flight program for such pilots, which then qualifies them to rent the Flight Design CTLS from KAS. Lloyd said they must also have a current flight review and renter's insurance if they want to rent from KAS after their transition training.
Lloyd added that if there is sufficient interest they may acquire additional CTLS aircraft.
About KAS
Lloyd started KAS this year, and shares his love of aviation with his wife who is also a pilot. They have lived in the Verde Valley for more than 10 years.
He would like to see a Young Eagles program begin in Cottonwood to introduce and inspire kids in the world aviation.
KAS is a full-service Light Sport Aviation center focusing on Rotax equipped Light Sport Aircraft. The company is located 668 S. Airpark Road, Hangar No. 3 at the Cottonwood Municipal Airport (P52) and can be contacted by appointment at www.kestrelaviationservices.com or 928-239-4101.
SUBMIT FEEDBACK
Click Below to:
More like this story