Death of an aviation pioneer
Irene Leverton flew at a time when women weren't welcome in the pilot's seat
By SCOTT ORR Contributing Reporter
Originally Published: July 27, 2017 3:41 p.m.
EDITOR'S NOTE: Irene Leverton, who lived at the Austin House in Cottonwood from September 2014 through April 2017, died Sunday, July 23, 2017. She was 90. Some of what follows is a first-person account of our reporter's interactions with Leverton.
I had the privilege to first meet Irene and interview her in February 2014. She was in an apartment in a Prescott assisted-living facility by then, but she was still as bright-eyed and enthusiastic as a teenager when it came to talking flying.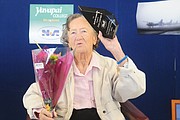 She was excited to learn that I was a pilot, and we talked for a couple of hours about our respective experiences — hers much more thrilling than mine.
Irene was inducted into the Women in Aviation Hall of Fame in 1966 and the Arizona Aviation Hall of Fame in 2004, but even those accolades seem inadequate to honor the strides she made toward allowing women to fly.
Her pilot's logbooks, which she showed me lovingly, were dog-eared, covered with notes, and chronicled a career starting in 1944 and ending in 2011, with 25,768 hours flown as a pilot-in-command.
The Early Days
Irene, a Chicago native, couldn't recall a time when she didn't want to fly, and as a child, she seemed obsessed with it.
"Finally, my mom got me a little wooden airplane that I could throw off our third-floor balcony and go all the way down, get it, and throw it again," she said. "Ever since then, I could never think of anything else."
She said she wanted to get into military aviation during World War II. Women were allowed to ferry aircraft around, though they couldn't fly combat missions. ("A fighter pilot? I think I would have been good," she said.) But she was too young and wasn't allowed to join.
She soloed the same year the WASP (Women in Airforce Service Program) was disbanded.
Irene ended up working at an airport. "I was cleaning up and propping (starting) airplanes, and I got to fly," she said. "I made enough money to fly one hour a week."
She eventually became a flight instructor and then a check pilot, giving flying tests to students trying to earn their licenses.
Irene loved to tell the story of the time, in 1950, she flew over Chicago's Meigs Field for its dedication, spraying the crowd with a new perfume called "Tailspin."
Reaching For Space
It seemed almost inevitable that, in 1961, when she was 34, Irene would be one of what is now known as the "Mercury 13," women who were part of a privately funded program, undergoing some of the same tests as the "Mercury 7" male astronauts.
She was flying for a Santa Monica charter company when she got the call, and, though not very interested in space travel, Irene was always up to fly a new craft.
The secret physical and psychological tests, shown in the film, "The Right Stuff," conducted by the same doctor who subjected the male Mercury astronaut candidates to them, were technically unauthorized.
After they passed those tests, the women — now nicknamed the FLATs, for "Fellow Lady Astronaut Trainees" — prepared to do the next round of testing in Florida, at the Naval School of Aviation Medicine.
Just days before the testing was to take place, the U.S. Navy canceled it, because NASA had not requested the women be tested.
NASA, for its part, said it required all astronauts to be graduates of military jet test piloting programs and have engineering degrees.
The U.S. military, at the time, did not allow women to fly jet fighters, and NASA refused to consider granting an equivalency for their hours in propeller airplanes, which would have made Irene and the others eligible.
Back To Airplanes
Irene turned her attention back to airplanes and began instructing pilots and giving checkrides for students to get their pilot's license. She became well known for enforcing rigorous standards.
She pages through logbooks that cover her time training young men for Japan Airlines, pointing out one student whose entry is highlighted with orange felt-tip pen. "Damn good pilot," she read, laughing.
The Japanese men were very respectful, Irene said, but among Americans, "some males didn't want a female to teach them, because females couldn't fly." Perhaps worse, she said, were the flight schools that wanted her to pass students that she believed weren't ready to be pilots.
"Some fellows hated me," she said. "I held them to exactly what they had to do for their rating.
In 1965, she made an attempt to cross the Pacific Ocean in a single-engine plane, a mission that failed when an on-board electrical fire forced her to turn back to San Francisco.
She lived all over the country, ferrying airplanes for anyone who asked or test-flying them when they came out of the shop to make sure they were safe.
Irene moved to Phoenix, and then Prescott, in the 1980s, and started her business, Aviation Resource Management, in 1985.
Irene spent some of her final flying days working with the Civil Air Patrol squadron in Prescott as a check-ride pilot, having gained certifications all the way to Airline Transport Pilot.
Last March, she was treated to a birthday cake and celebration at the North-Aire hangar at Prescott's airport. Smaller, and frailer than I remembered her from that interview two years earlier, Irene still smiled when she saw all the familiar faces who had come to see her.
Irene never married, because she said, married women always seemed to stop flying shortly afterwards.
She always wanted to write a book about her exploits, but never got around to it.
But she will be featured in a Netflix documentary on the Mercury 13 to be released in January, said longtime friend Kathi Schmier.
"They came over from London to film it," she said, and a local pilot who owns a Piper J-5 Cub, the same model she first soloed in, took her up.
"They put a Go-Pro video (camera) in the plane, and put Irene in the plane, and as soon as they took off, he said she was flying the airplane," Schmier said.
"It's amazing."
Irene passed away peacefully, at Rutledge Ranch Retreat in Paulden, "with a smile on her face," Schmier said.
She requested no memorial services, but memorial contributions can be made to the scholarship fund in her name at Embry-Riddle Aeronautical University or to the Yavapai Humane Society, Schmier said.
Her remains will be cremated and scattered over the former Meigs Field site, where she learned to fly.
For more on Irene, visit https://www.dcourier.com/news/2016/mar/29/she-knew-how-fly-plane-flying-community-honors-89-/. Stay tuned for a Netflix documentary featuring Irene and other Mercury 13 members, which was filmed at the Cottonwood Airport. The documentary is expected to come out next year.
SUBMIT FEEDBACK
Click Below to:
More like this story