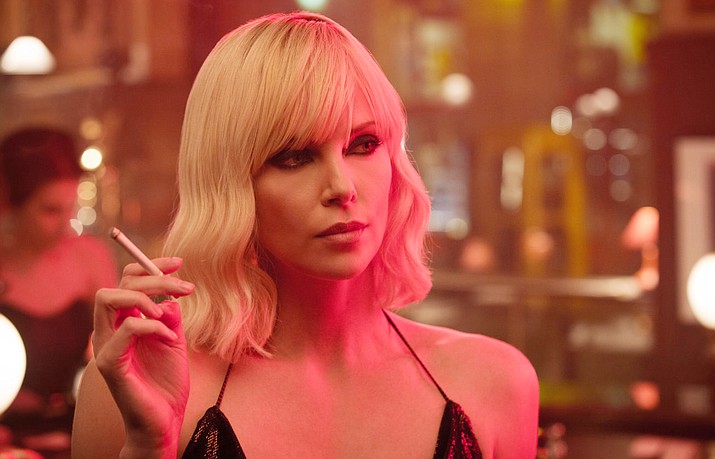 ---
---
Charlize Theron, the very beautiful and talented actress, has embraced the Jason Bourne genre of films, and under director David Leitch taken it a few steps up. In Atomic Blonde, Theron is Lorraine Broughton, a British M-16 espionage operative, sent to Berlin on a mission.
The time is 1989. The Soviet Union is about to collapse and the Berlin Wall is about to be torn down.
A list of British and American agents who have been working undercover in East Berlin has fallen into the hands of a communist agent tagged as 'Spyglass' (Eddie Marsan). He is trying to use it to enrich himself and to defect to the west.
The start of the film shows Lorraine being interrogated by two men. One is her British superior, Eric Gray (Toby Jones) and the other is an American CIA officer, Emmett Kurzfeld (John Goodman).
Lorraine does not look so good here. She is covered with bloody wounds in her face and body as she tells her story.
The two men grill her, hoping to learn how she managed to get the list. The various chapters of the plot are told by Lorraine in flashback.
Part of her story has to deal with how many people have been killed while plying their spy-trade. Most of them, as shown in the film, were done in by Lorraine. And that is the major tenor of Atomic Blonde. No matter how many bad guys surround Lorraine, all pointing guns at her, ready to dispose of her, she dispatches them all. These fight scenes, backed by accompanying roaring music, so saturates Atomic Blonde that the plot of the film becomes almost unimportant.

The cinematography, in veiled rich tones, and the very exciting fight choreography add to the tension.
When Lorraine arrives in Berlin, she connects with another British agent. He is David Percival (James McAvoy), a thoroughly experienced, tough member of the espionage world. The two agents are not strangers, having worked together before.
In between the fight scenes, Lorraine moves in social gatherings, looking her most beautiful, dressed in the most elegant outfits.
She attracts attention, but the only actual affair Lorraine has is with a woman who is a Communist spy, Delphine Lasalle (Sofia Boutella).
So, Atomic Blonde is a good diversion if martial arts and groin-kicking and back stabbing and head smashing is exciting for you.
There are a few surprises at the climax as we learn whom is to be trusted and who the real bad guys are.
But this does not have the gripping suspense of a Le Carré spy novel or film.
Atomic Blonde is at Harkins Sedona 6 Theater.