From garden to table
Rimrock Farmer's Market open Fridays at Sycamore Park
By
Bill Helm
|
BillHelm42
Originally Published: June 8, 2017 12:04 p.m.
RIMROCK – A few years back, it was called the Beaver Creek Farmers Market and it was open Wednesdays throughout the summer.
Last year, it was revived – and renamed the Rimrock Farmer's Market, open on Saturday mornings.
This year, the Rimrock Farmer's Market will be open Fridays.
The more things change, the more they stay the same.
Because the market's vendors are still about using organic methods to provide the best possible produce to their consumers.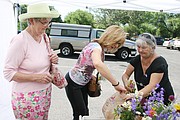 An evening of entertainment
For the past two years, Rimrock artist Gerry Quotskuyva has managed the Rimrock Farmer's Market. A year ago, the market had 10 vendor spaces but only filled seven.
A small market a year ago, this year's Rimrock Farmer's Market can boast 13 booths this year.
"People were more interested in Friday nights," Quotskuyva says. "With a full schedule of musicians, more of an evening of entertainment so people can bring their chairs down to listen."
Garden to table
Besides produce and artisan booths, vendors at the Rimrock Farmer's Market will also offer meat, locally canned goods, a variety of peppers, teas, nuts and beauty/health-related products, as well as a variety of musical entertainment throughout the summer.
Not just limited to vendors, the Rimrock Farmer's Market will also make space available for gardeners who sell a limited amount of produce.
So far, Kayo Parsons-Korn, Plowing Ahead Ranch, Nancy Sheffert, Michele and Merle Herrick and Candy Hammond are on this year's roster of vendors.
With fresh vegetables, herbs, baked goods, beef, eggs, pies, honey, flowers and plants, as well as lotions and creams made of goat milk, there will be plenty of things available at the Friday market, a veritable garden-to-table experience, as Quotskuyva says.
The list of artist vendors includes Sunny Heartly, David Adamson, Shel Nunn and Jacqueline Guineau.
Quotskuyva, who normally is happy performing the market's behind-the-scenes "grunt work," will personally sell fresh vegetables from local farmers who cannot be at the Rimrock market.
Success for one = success for all
With ground beef, ribs, stew meat and a plethora of steaks, Camp Verde's Plowing Ahead Ranch will be one of this year's vendors at the Rimrock Farmer's Market.
For the past eight years, Zach Wolfe and his wife Shannon Garrels have operated their Camp Verde ranch, which has gone "from three head to about 70 head," Wolfe says.
"As we got the pastures up, it kind of evolved into a business," Wolfe says. Dedicated to consistency with its product, Plowing Ahead Ranch heard from Quotskuyva and now makes the market one of four in the Verde Valley whose mission they support.
"We really want to focus our efforts on the Verde," Wolfe says. "We really want to help build the community, build the reputation of good beef in the Verde Valley. Success for one of us is success for all of us."
Come to the market
From 4 p.m. until 7:30 p.m. Fridays beginning June 9 and until Oct. 6, the Rimrock Farmers Market will offer fresh produce, baked goods, plants, artwork and live musical entertainment at Sycamore Park, next to the bridge on Montezuma Avenue.
Beginning June 23, the market will be able to accept checks from the Farmer's Market Nutrition program.
For more information, visit www.facebook.com/RimrockFarmersMarket.
-- Follow Bill Helm on Twitter @BillHelm42
More like this story
SUBMIT FEEDBACK
Click Below to: