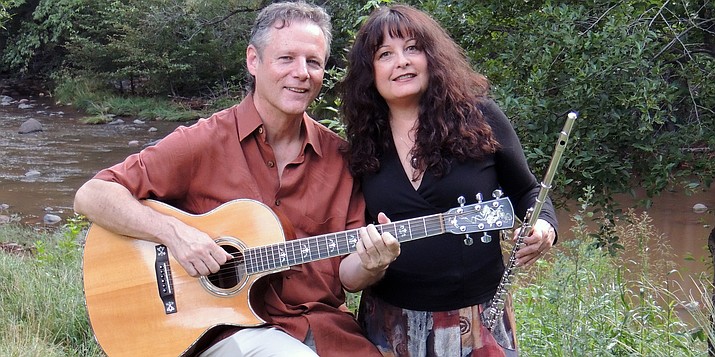 ---
---
Vino Di Sedona is the place to be on a Wednesday night listening to rock and country tunes by Rick Busbea, June 14, 7-10 p.m. Rick is known for his outstanding covers of favorite songs by Kenny Chesney and Jimmy Buffett.
"Rick adds his own flavor to the songs that he covers, and is one of Sedona's favorite entertainers," says Vino Di Sedona owner Wes Schemmer. Rick performs covers by other well know singers, and also performs originals songs he has written. Check the Vino Di Sedona calendar for Rick's dates, he's there a few times every month!
Start your weekend early at Vino Di Sedona on Thursday night listening to amazing music by Tim Young! Before moving to Sedona, Tim had a 30-year music career in NYC where he performed hundreds of shows and released three CD's. He was raised in the heyday of AM top forty radio and the Folk music boom, his inspirations are everyone from Bob Dylan, Joan Baez and Arlo Guthrie to The Beatles, Sex Pistols, Ramones, Cars and Nirvana.
Instrumentally, Tim is a stand out rhythm guitarist, both acoustic and electric. He has composed music and songs for TV and several independent films. Tim's lyrics are inspired by personal relationships, politics, the bar scene, and the music business. Tim's set is June 15, 7-10 PM.
Friday June 16, 7-10 PM, brings Texas Americana, Folk, and Country Blues by singer-songwriter Hank Erwin. Hank has an incredible history of life experiences that have resulted in a collection of songs that tell his story. His gentle, but strong, soul echoes in his melodies, and he shares life's lessons when he plays guitar and sings. 
Wine Tasting at Vino Di Sedona on Saturday June 17 features music by Saffire (Gina Machovina & TJ Brennan), 3:30-6 p.m. Gina is best known for her virtuoso guitar playing and smooth, sultry vocals (it's hard to believe she used to be in a heavy metal band!)
As a student and performer of classical guitar music for more than 30 years, Gina also played lead guitar and wrote music for her hard rock-band, Rising, in So California. More recently, Gina has performed solo as a singer/songwriter throughout the Pacific Northwest where she recorded her first CD, Mirrors. She now resides in Sedona and plays extensively throughout Northern Arizona. Beautifully mesmerizing, Machovina's music is a soulful mix of guitar masterpieces with passionate vocal tunes spanning many decades. Gina is joined by percussionist TJ Brennan.
Following Saffire is Meadowlark, Saturday night 7-10 PM. Be transported on a magic carpet ride as Meadowlark performs a vibrant, colorful mix of world-influenced music. Performing on flute, pennywhistles, and guitar, Rick Cyge and Lynn Trombetta as Meadowlark create an uplifting, instrumental voyage inspired by the beauty of natural places throughout the desert southwest. Meadowlark's compositions meld influences as diverse as Celtic, African, and Mediterranean traditions to create captivating, organic music which is as distinctive in sound as it is diverse in scope.
Also on the menu: Fresh arrangements of music by pop favorites such as Cat Stevens, Norah Jones, Van Morrison, The Beatles and more! Visit www.MeadowlarkMusic.com for video and more information.
It's Sunday-Funday with music by Rick Busbea at Vino Di Sedona June 18, 6-9 PM. Rick puts on a high-energy show playing a lot of familiar tunes by the likes of Kenny Chesney, Jimmy Buffett and Jim Croce. After re-locating to Sedona from Los Angeles just two and a half years ago, Rick is becoming one of Sedona's favorite musicians. If you are not at Vino Di Sedona on Sunday nights, you are missing out!
Music Monday on June 19 features 2016 Prescott Idol winner D.L. Harrison! D.L. is an Arizona singer-songwriter who delivers a high-energy rock and blues show, and was recently named Prescott Idol! Music on Monday starts at 6 PM.
Sedona's best Open Mic night, hosted by Dan Rice is every Tuesday, 6-10 PM, at Vino Di Sedona. Each musician is allotted an amount of time, or number of songs, and every week brings a variety of new talent along with regulars like KB Bren, Randy J, Zack Mack, Rick Busbea, Greg Williams, Vickie Moyer and Dave Rice who frequently play at Open Mic.
Vino Di Sedona is located at 2575 W SR 89A in West Sedona. For more information or to see the full calendar of events, visit www.VinoDiSedona.com. 928-554-4682