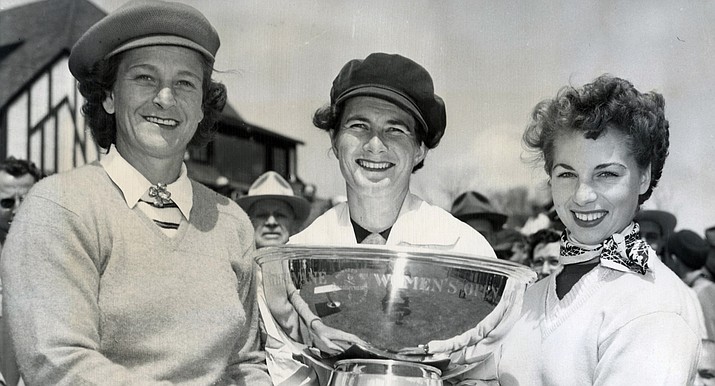 ---
---
The Sedona International Film Festival will partner with Seven Canyons Golf Resort to present a one-night only special premiere of the award-winning new documentary "The Founders" on Thursday, June 22 at 4 and 7 p.m. at the Mary D. Fisher Theatre.
Both screenings will be followed by a Q&A with LPGA golfer for 28 years Betsy King.
They were not supposed to be athletes. They were not supposed to get paid to play. They were not supposed to call the shots. But in 1950, 13 amateur women golfers battled society, finances and sometimes even each other to stake their claim to become professional sportswomen.
Over time, these women would be recognized as true icons of sport and equality.
This is the story of "The Founders."
LPGA golfer Betsy King will lead a discussion and Q&A session after both screenings of "The Founders."
Betsy King played on the LPGA tour for 28 years, from 1977 through 2005. During that time she won 34 tournaments including 6 major championships. She is a member of both the LPGA and World Golf Hall of Fames. She has met and knows a number of the 13 Founders of the LPGA including Patty Berg, Louise Suggs, Marilyn Smith, Marlene Hagge, and Shirley Spork.
King has always had a charitable heart volunteering with Habitat for Humanity and the Fellowship of Christian Athletes. She has traveled internationally to Romania to visit orphanages and to Honduras to build homes. She founded Golf Fore Africa in early 2007 following a life-changing trip to Rwanda, Kenya, and Zambia in October of 2006.
To date, Golf Fore Africa has donated $5 million to fund various projects in Africa. Currently GFA is raising funds to bring clean water, improved sanitation, and hygiene education to 200 communities in Zambia. Betsy's desire is to enlist golfers around the world to join the fight for clean water!
The day after this film screening (Friday, June 23), Seven Canyons Golf Resort is hosting a "Golf Fore Africa" golf outing with Betsy King. Proceeds from the event will be used to bring clean water to rural villages in Zambia. For more information or to sign up for the event, call Seven Canyons at 928-203-2005.
"The Founders" will show at the Mary D. Fisher Theatre on Thursday, June 22 at 4 and 7 p.m. followed by a Q&A after both shows. Tickets are $12, or $9 for Film Festival members. For tickets and more information, please call 928-282-1177. Both the theatre and film festival office are located at 2030 W. Hwy. 89A, in West Sedona. Visit: www.SedonaFilmFestival.org.