Mingus football heads to San Diego on a high
Originally Published: June 15, 2017 1:22 p.m.
With another home 7-on-7 sweep, Mingus Union football heads to its annual trip to San Diego on a roll.
The Marauders will compete in San Diego State's 7-on-7 tournament for about the 15th year in a row.
"There will be some really good Arizona teams, it's a lot of San Diego, some LA teams, about 40 schools, it's a big tournament, good competition," said Mingus Union head coach Bob Young.
Junior Kendrew Streck said the trip gives them a chance to bond at hotel rooms and on the bus rides.
"Not only is it San Diego and going to the beach and hanging out with your best friends but for the football part of it, I know we're going to get better and all of us are going to do really well and we believe in each other and we believe in the coaches and the system and we can't wait for it," said junior quarterback Antoine Zabala.
The trip comes after the Marauders beat Sedona Red Rock, Flagstaff, Coconino and Chino Valley on Wednesday at home.
"It went pretty good, we won all our games but we did start out slow but we've been starting out slow all season, we just gotta get better you know? That's what it's about," Streck said.
Zabala said another perk of the San Diego State tournament is seeing new teams.
"You know the talent gets upped and therefore our competitiveness gets upped," Zabala said. "We can't play down to the people's levels and that's what we do when we see the same teams over and over, we started to catch on to schemes but seeing different teams from across other states is amazing to see."
While Mingus went unbeaten in 7-on-7 play for the second straight week at home, this Wednesday say the second team get more snaps.
Young said the goal was to get them in more in two of the five games and they did.
Photo Gallery
Mingus Union Football 7 On 7 June 14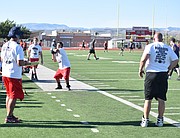 On June 14, Mingus Union football hosted Sedona Red Rock, Chino Valley, Flagstaff and Coconino for 7-on-7 games and Big Man competitions. (Photos by James Kelley)
"We're getting better, that's all I can ask," Young said. "I feel good about our first offense and defense, we gotta develop some depth. Our second defense struggled a little and finally I think that last game they started figuring some stuff out, so hopefully they'll continue to get better because I think our first group is going to be really good, we gotta have depth."
For the second week in a row at home, Streck caught a touchdown pass that was so difficult that players on the sideline asked each other if they had seen it.
"It's been going good for me, I've been playing a lot, getting a lot of reps and I've been having fun," Streck said.
The starter Zabala didn't just stay on the sideline when he wasn't playing quarterback, he also played receiver and lined up in a three point stance in the backfield. His teammates cheered when he juked a Sedona Red Rock player after catching a pass.
"My coach lets me run around a little bit, makes me think that I'm better than I really am out there," Zabala said, "but it's fun, I mean I enjoy it, anywhere I'm put on the field but I think I'm meant to throw the ball instead of run."
Last week Mingus Union went undefeated at Estrella in Avondale and then 5-2 at NAU.
"We did really well, we just got better the whole weekend and we started off a little sluggish down in Phoenix but overall as a team we're getting better week in week out and I couldn't be more excited for the season to start," Zabala said.
At NAU, Mingus Union only lost to Chandler the defending 6A state champions and eventual winner of the tournament and then fellow 6A side Casteel in the quarterfinals.
"We lost in the quarters to a really good team," Young said. "We did well, we're getting better."
More like this story
SUBMIT FEEDBACK
Click Below to: