Camp Verde council could approve new contact with magistrate
Former vice mayor could be named new P&Z commissioner
By
Bill Helm
|
BillHelm42
Originally Published: June 20, 2017 1:21 p.m.
CAMP VERDE – In early June, the Camp Verde Town Council considered, but decided against expanding the duties and hours of Camp Verde Magistrate Paul Schlegel from part-time to full-time.
Wednesday, council is expected to approve an agreement with Schlegel on a 28-hour per-week two-year contract at $74,474 per year.
Schlegel, who sought a contract also for two years but for $104,000 annually, will continue to be an independent contractor and not an employee of the Town of Camp Verde.
Though Schlegel had provided a list of added responsibilities for the proposed additional hours and pay, Town Manager Russ Martin has said that the proposed fiscal year 2017-2018 budget could not support an increase.
Stated Schlegel in a May 31 letter to council, though the court's mission "is not to make money for the town, the reality is that the success of the court directly impacts the financial status of the town."
Schlegel's letter also stated that to address past due fines, the court "must be given the opportunity to schedule more hearings, both Order to Show Cause hearings and Payment Review hearings, in order to utilize measures only available to the court to ensure compliance with court orders.
Familiar faces in new place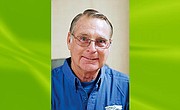 In May, Dennis Willis officially resigned his position with the Town of Camp Verde's Planning and Zoning commission. Wednesday, council could appoint his replacement – former vice mayor Bruce George.
For a term that expires in January 2020, George first expressed interest in joining the commission in November 2016 following the election that found him unsuccessful in his attempt to remain on the town's council.
According to George, key responsibilities for Planning and Zoning commissioners include being "fair and unbiased" and to be "prepared when attending a meeting and now have to guess."
Council's June 21 regular session will be held in council chambers, located at 473 S. Main St. #106.
A copy of the agendas can be found at www.campverde.az.gov/town-council-agenda-2017.
-- Follow Bill Helm on Twitter @BillHelm42
SUBMIT FEEDBACK
Click Below to:
More like this story