Editorial: Robb Williams' departure will leave leadership void in Verde Valley
Originally Published: June 20, 2017 1:52 p.m.
The Verde Valley has been hit with a double-whammy with the news that Robb Williams is leaving town.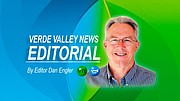 That leaves two big voids on the local leadership landscape.
First, he is leaving some significant shoes to fill as the much-loved pastor of Verde Community Church. Williams assumed the pastor duties of the former Verde Baptist Church in late 2006 following the tragic highway death of Pastor Bill Hutchinson.
The Verde Baptist family was traumatized beyond words. Williams showed exemplary leadership skills by facilitating the healing needed at the time, and then ultimately re-directing the congregation's focus to its work in the community.
At the same time, Williams stepped forward to serve on the Mingus Union School Board. In that role, he has been the model for what a school board member should be. He is thoughtful, comes to meetings prepared, and always puts student needs first.
It bears emphasis that many church leaders are quick to criticize what they often label "the secular world." They are critical of the government, school system and our society, but seldom do you see them stepping up and taking on a hands-on role to make things better. Too often, they live in an insulated world of like-minded people.
Williams showed us that a Christian leader can also be a community leader, and a very effective one at that. He did not bring a personal agenda to the table in his role as a school board member. Instead, he was a model team player who earned respect by showing respect. He is an example all church leaders should emulate.
It's certain that Williams will be the first to say that he and his family have been greatly blessed by having the opportunity to serve Verde Community Church and to have taken a hands-on role in community affairs.
But it's more certain that the Verde Valley has been blessed because Robb Williams chose to be a part of our community.
He is a leader who served us well on many levels and most certainly will be missed.
Thank you for your selfless service, Mr. Williams.
More like this story
SUBMIT FEEDBACK
Click Below to: