Mingus girls hoops adds spring and summer activities to slate
Originally Published: June 22, 2017 2:25 p.m.
After having a very empty offseason last year, Mingus Union girls basketball has had a full slate this spring and summer.
Second year head coach Frank Nevarez wasn't hired early enough last year for the Marauders to have open gym and summer games but he has taken care of that this offseason.
Nevarez says the summer has been "interesting" for the Marauders.
"I'd say we've done a lot of good things," Nevarez said. "What's encouraging for me is that we have a good number of freshmen coming out to open gym and league play, which is good for the program in the long run."
This year Mingus Union has started open gym, playing in leagues in Flagstaff and Sedona, had a basketball clinic with Advantage Basketball with Chris
Johnson and went to Embry-Riddle's basketball camp.
"So we've done a lot of working on our basketball skills, basketball IQ, whereas in the past couple of years, nothing has happened," Nevarez said. "So between basketball clinics, the Chris Johnson, with Riddle, with league play, open gym, we've been pretty busy and I'm kinda hoping it will pay off."
Last season the Marauders' improved to 7-12 from 6-20 in 2015-16.
Mingus Union is playing against the familiar opponents like Prescott, Sedona, Flagstaff and Coconino this summer.
"In Sedona it's a little bit difficult because we're playing against actual varsity teams where as in Flagstaff we're playing a mixture of varsity and JV," Nevarez said. "So we're doing a little bit better in Flagstaff, I think we won three or four games, I'm not sure, give or take but we're holding our own. But again, the development of the freshmen girls is really for me very encouraging."
Last season Mingus Union had two players named to the All-Grand Canyon second team, Darien Loring and Destiny Razo and Nikki Zielinski was honorable mention. Only Razo was a senior.
Nevarez was hard pressed to mention just a two or three players who have done well this summer.
"That's really hard to say because overall I think the whole team in general has been impressive because I do have a mixture of freshmen and sophomores and juniors playing together," Nevarez said. "Whereas the juniors and sophomores, they've played before, the freshmen haven't. For us to come together and play as a team takes a lot of work and they haven't really played together. We've had some ups and downs but having said that though, they're overall work ethic, their tenacity, their willing to learn has been impressive."
Nevarez is sure the Marauders' extra work will pay off. Mingus Union hasn't had a winning record since 2008-09 when they went 23-9 and has been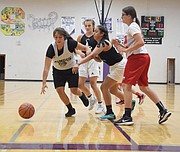 under .500 since 2013-14 when they went 12-12.
"Going back to the past, where they really hadn't done anything, I think by us at least working together on our basketball skills, basketball IQ, it can only help us, it has to help us," Nevarez said.
More like this story
SUBMIT FEEDBACK
Click Below to: