Romanska completes the Bryce Canyon Ultramarathon in record temperatures
Magdalena Romanska, Special to the VVN
Originally Published: June 22, 2017 2:04 p.m.
On June 17, 2017, Magdalena Romanska, owner of the Be Fit Fit in VOC, completed the Bryce Canyon Ultramarathon.
She warmed up for the event with the 50km+ Grand Canyon Ultra three weeks before the Bryce event.
Like the whole region, on the race day, Bryce Canyon experienced record hot temperatures, resulting in many DNS (Did Not Start) and DNF (Did Not Finish). One of the organizers estimated that about 60% of the 50 Miler did not complete the course, and she said that participants were dropping out like flies from the other two distances, as well (100 Miler and the half marathon distance).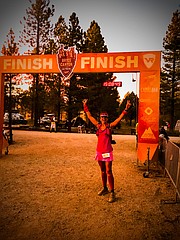 As the day progressed for the longer distance runners, the combination of the extreme dry heat, high altitude (7,500-9,400+ feet), rugged course, and the low or no supply of electrolytes at most of the aid stations caused quite a medical mayhem on the course. Later in the day, the last aid station run out of water, too!
Additionally, there were some active forest fires in the area, adding to the respiratory problems for some. Magdalena witnessed participants who were curled on the side of the trail sleeping or recovering, several who were passed out and attended to by their friends and firefighters, paramedics and nurses, who were brought on the race course. Many medical and rescue evacuations were necessary. Search and rescue had a very busy day and at the finish lane, there was a line to the Medical Tent.
In terms of the 50 Miler, only 176 racers finished, and about 40% of those registered were women. There were participants from 41 states and 17 countries.
The fastest man in her distance was Holden Rennaken from Durango, CO, who completed the course in 8:30hr, and among women, Leslie Howlett from Lehi, UT, who finished in 10:22hr. Magdalena finished 123rd, in 1:08hr.
The runners conquered the elevation change of 15,545 feet, and it took Magdalena 101,884 steps to complete the race. The course started near the Crawford Pass and was designed in one of the most scenic areas of the world, the Paunsaugunt Plateau and the Red Canyon. For most of the race, they kept to the Grandview Train, which, as the name indicates, offers amazing panoramas. Expansive views of hoodoos, arches, windows and red walls accompanied the competitors during the whole race. They also enjoyed a simple single track amidst the birch tree forest, ponderosa forest, scrambling on all fours, sliding down in the dust on their caboose, descends of 1,000ft+ to the hoodoos, and close encounters with deer, elk, snakes, squirrels, and more.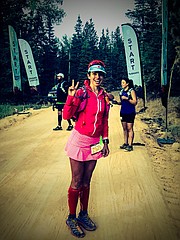 The race is organized by Ultra Adventures, which is a zero waste event, meaning that less than 1% of trash goes to the landfill.
More like this story
SUBMIT FEEDBACK
Click Below to: