Little League softball minors open with tough loss
Verde Valley falls 26-12 to Prescott Valley
Originally Published: June 24, 2017 1:41 p.m.
WICKENBURG – Verde Valley Little League's softball minors all-star team opened the district 10 with a tough loss, but their coach is excited about the team.
On Friday night at Sunset Park in Wickenburg, Verde Valley lost 26-12 to Prescott Valley after PV batted around in the fifth inning.
"The girls played great, there's no doubt about it," said Verde Valley head coach Zack Calandra. "They worked real hard, had about three weeks of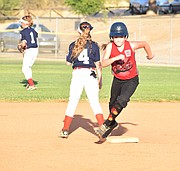 practice now and these girls have been giving it there all and they played really well the first three innings, we were up by four runs I think it was going into that inning."
Verde Valley led 11-7 heading into the fifth, a half inning so long that the home plate umpire called for a water break. Though the minors game started at 6 p.m. and the Verde Valley softball majors game on the field next to them finished at 7 p.m., the older kids' game ended earlier.
"We kinda knew the pitching was going to be a problem when we got into this tournament, our starting pitcher Alice (Kinsey) did a great job and then we got a little bit tired and we kinda got into a situation where we had to throw a bunch of different girls in there, trying to find somebody that could get an out," Calandra said. "Our pitching kinda got to us a little bit, but these girls, they don't give up, they keep playing and they try hard the whole time and I couldn't be happier in the performance that these young ladies put out here (Friday)."
Verde Valley faces Wickenburg on Saturday night but results were not available at press time. Williams beat Wickenburg 15-5 in the other minors game.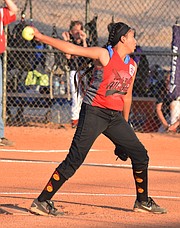 The girls in the tournament are 8, 9 and 10.
Though the tournament is minors, the VVLL players are from the Verde Valley majors teams. They have five, four and two players from three of the teams, as one was mostly too old.
"It's pretty well spread out and their coaches did a great job all year long, so we weren't worried about having decent players, we knew that the coaches did a good job all season," Calandra said.
Calandra praised every one of his players when asked who has done really well in those three weeks.
"Every single one of them," Calandra said. "It's just a great group of girls, I mean I can't say one girl's been better than the other, they all put out a great effort and it's just a great team effort."
To Calandra, this team is about more than winning. Some have played together for years and in other sports together.
"It's just kinda fun when you bring all the girls from different teams and then come together over and then over that three week period or so, you
Little League All-Stars
Minors baseball
Cureton Park,
Williams
Prescott 23, Camp Verde 2
Prescott 24, Verde Valley 1
Verde Valley 13, Wickenburg 3
Williams 21, Camp Verde 6
Verde Valley 16, Williams 13
Prescott Valley 10, Verde Valley 8
Majors softball
Sunset Park,
Wickenburg
Verde Valley 26, Camp Verde 4
Verde Valley 20, Wickenburg 0
Williams 24, Camp Verde 10
Bagdad 12, Verde Valley 2
Verde Valley 2, Williams 1
Minors softball
Sunset Park,
Wickenburg
Prescott Valley 26, Verde Valley 12
9/10/11 baseball
Mountain Valley Park, Prescott Valley
June 27
Verde Valley vs. TBD 6 p.m.
Camp Verde vs. TBD 6 p.m.
Majors baseball
Bill Valley Park,
Prescott
June 28
Wickenburg vs. Camp Verde 6 p.m.
Prescott vs. Verde Valley 8 p.m.
Juniors baseball
Camp Verde High School
July 5
Camp Verde vs. Wickenburg 5:30 p.m.
July 6
Verde Valley vs. TBD 8 p.m.
watch them develop new relationships and new friendships with other kids," Calandra said.
"These girls are just amazing and it's a tribute to their parents, obviously their parents are raising great kids. We don't have any girls arguing with each other, we're talking about 9, 10 year old girls, they're not just bickering with each other, they're really good friends here and that's the main thing, we're trying to develop friendships that these young ladies can have for a life time."
SUBMIT FEEDBACK
Click Below to:
More like this story